Derbyshire's Spice Sisters Cook up a Storm in the Peak District For BBC's Countryfile
Food & Drink Press Releases
Visitors to Alicante exhbitions and markets will know all that the Spice Sisters
Derbyshire's Curry on Cooking is on a mission to bring a taste of home in BBC's flagship Countryfile. The programme turns the spotlight on Derbyshire food producers based in the Peak District.
In the show, to be aired 26th January 2020; we see Derbyshire-born Spice Sisters, Nilam Wright and Veena Josh from Curry On Cooking giving presenters Anita Rani and Sean Fletcher a masterclass in Indian bread making; plus showcasing food eaten at one of the most important winter thanksgiving festivals in the Indian calendar. 
Curry On Cooking was born when Nilam moved from Derbyshire to Spain and discovered unlike the UK, with its historic ties to India; curry is not on the menu in Spain, Spain has no longstanding links to South Asia and the 300,000 Brits who live there miss a good curry.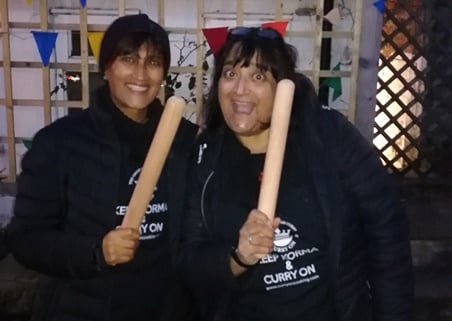 Spotting a business opportunity, Veena gave up her job as the Mid Morning Producer at BBC Radio Derby to set up Curry On Cooking with her sister.  The Spice Sisters run cookery classes, retreats and produce a range of eight curry kits. The kits come with a shopping list and an easy to follow a recipe; the flavours reflect what's on offer in high street curry houses. The names are instantly recognisable – Madras, Korma, Tikka Masala, Bombay Potatoes, Briyani Rice, Pakora, Jalfrezi and Balti – and the quality is second to none. The girls' motto, printed on every pack, is KISS – Keep it Simple, Sister. 
The sisters are on a mission to demystify Indian food, Nilam says 'we are both passionate about showcasing. 'real Indian food' taking the fear out of cooking from scratch and providing a healthy alternative to jars...the convenience without the compromise. The kits have no nasties – they are free from sugar, gluten, dairy, nuts, additives, and preservatives and suitable for vegans'.  
KEEP KORMA & look on the Bright Side of Life
www.curryoncooking.com
youtube.com/watch?v=RagX5L7p_KI
youtube.com/watch?v=C-O-2kmvZ4A
​https://twitter.com/Curry_Kits
www.instagram.com/curry_on_cooking