Picking the Perfect Paella
Food & Drink
The great symbol of Valencian nationalism is to go to eat a paella on the beach...
The Spanish are passionate about many things - particularly football and food. Many people would argue that paella is Spain's signature dish. Ask a Spaniard and you're likely to get a different answer. Certainly in the Costa Blanca and Alicante areas, paella is the top dish. But what is paella? How do you cook it? What can you put in it? These are all open to debate.
The one thing you need to be clear about is that paella is traditionally cooked by men. This could go some way to explaining its popularity among the sisterhood.  Paella is now one of the most popular lunchtime dishes in the Alicante region with thousands of paellas being served every day in the summer months. So how did paella become such a popular Spanish dish?
Titbit of history
When the Moors invaded Spain in medieval times, they bought many of their customs with them including irrigation which revolutionised the farming industry. New crops such as oranges and rice were introduced. These are still grown in abundance in the Alicante region. The Albufera freshwater lagoon just south of Valencia was irrigated and water channels introduced to provide the perfect paddy fields for rice. Centuries later, the perfect rice for paella is still produced in this region.
Just as the potato became the staple food in Ireland and the UK, rice was the main grain in Spain and was served at every meal. The families added whatever ingredients were available - beans, snails, rabbit, pork, fish or eels.
Paella is named after the flat pan it is cooked in. You can pick up paella dishes of all sizes in the markets, ironmongers' shops or at the airports.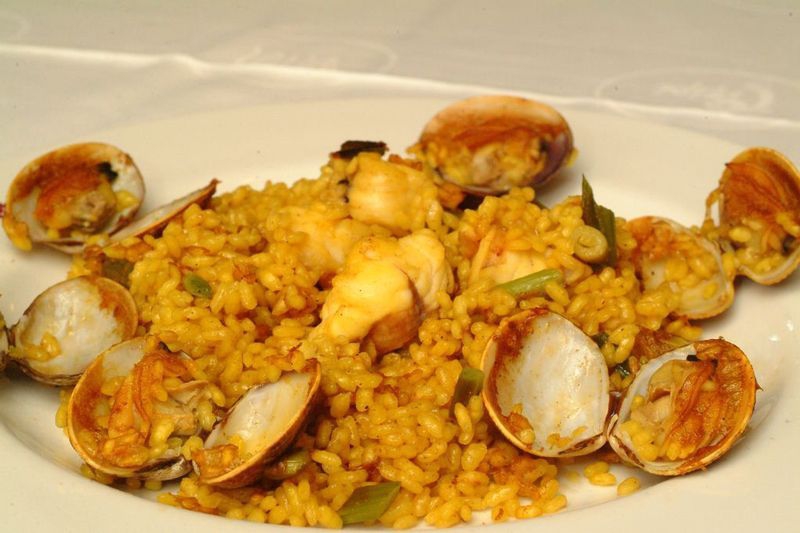 Which rice is nice?
Valencian rice is the best for making a paella. It's a medium-grain rice which soaks up all the stock and flavours which go into the dish. Three types of rice are grown in the region - Senia, Bahia and Bomba. If you buy it, make sure it has the stamp Denominacion de Origen Protegida (DOP) to prove it is authentic Valencia rice. Bomba rice is considered to be the best as it is perfect for paellas because it absorbs more stock than other rices, yet the grains remain distinct. It's not creamy like Italian Arborio rice or sticky like Asian rice.
Grains reign in Spain
When you talk about Valencia rice dishes, first and foremost in everyone's mind is the paella. It is the star dish at many fiestas and wedding feasts. Go to a festival in Alicante and the Costa Blanca and you will see giant paellas being cooked - by men, of course - over open fires. However, the local people have found an infinite number of  rice recipes. There are five fundamental ways of cooking it though - in a paella dish, in the oven, in stews, dry rice dishes and in desserts.
In Spain, it is not possible to talk of rice but of rices and of the 1,001 ways to prepare them. In other countries, rice is a side dish. In Alicante it is so much more important. The function of rice in Mediterranean cooking is as the driving force behind the flavours. Its mission is to absorb and harmonise the flavour of the ingredients. An important task for such a small grain.
Variety is the spice of rice
Rice is as important to Spaniards as pasta to the Italians. It is the staple part of its most important dishes. However, what goes into your rice dish? The simple answer is that anything goes! In the mountains, it could be vegetables or meat such as rabbit or chicken. By the sea, it will be fish and shellfish. Whatever it is, it will be fresh and in season.
You can try many types of paellas. Valenciana Paella is the authentic dish which is made with chicken, rabbit and snails. Most restaurants will serve a Paella Mixta or mixed paella with shellfish such as prawns or mussels, chicken and vegetables. This is probably the best one to try to start.
However, there are many other traditional rice dishes, just as there are many ways with pasta or the potato.
One of the best known is arroz a banda, which is rice and fish. Arroz al horno is cooked with pork ribs, sausages and chickpeas in the oven. Arros del senyoret is served with prawns and mussels whil arroz negro is cooked with squid and squid ink. For dessert, you could try arroz con leche, which is a sweet rice pudding.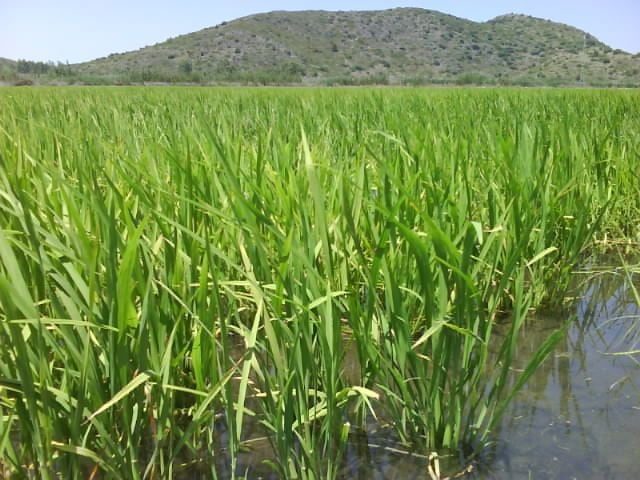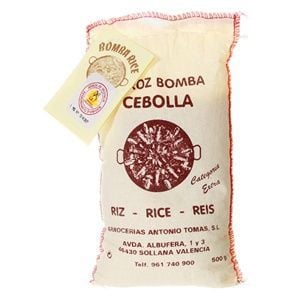 Where to try it
Most Spanish restaurants will serve paella in its many forms. Make sure it is for two people - if the restaurant serves paella for one, it is likely to be frozen and microwaved. If you want to be more adventurous, the many arroceries, or specialist rice restaurants, are great places to try different dishes.
In Benidorm, you could try one of these arrocerias:
Restaurante Aitona, Ruzafa 2
Restaurante Casa Modesto, Calle Finestrat
Restaurante Jardin Mediterraneo, Avda Alcoy 2
In Denia, you could try Restaurante Can Broch, Placa de Drassanes, 4, La Casa de L'Arros in Ctra Las Marinas km5 and the Glorieta del Pais Valencia 7, or Restaurante Mena, which is on the seafront at Les Rotes. 
Casa Pepa in Partida Pamis, Ondara, also does special rice dishes including those with rabbit, fish, or other meats.
Further south, in Santa Pola there is the Restaurante El Faro in Ctra Alicante-Cartagena. Alicante has many specialist rice restaurants around the marina and old town. A particularly good one is Restaurante Darsena in Marina Deportiva Muelle de Levante 6.
In Torrevieja, you could try Restaurante El Puerto in Pasea Visto Alegre or Brisas Del Mar in the same street.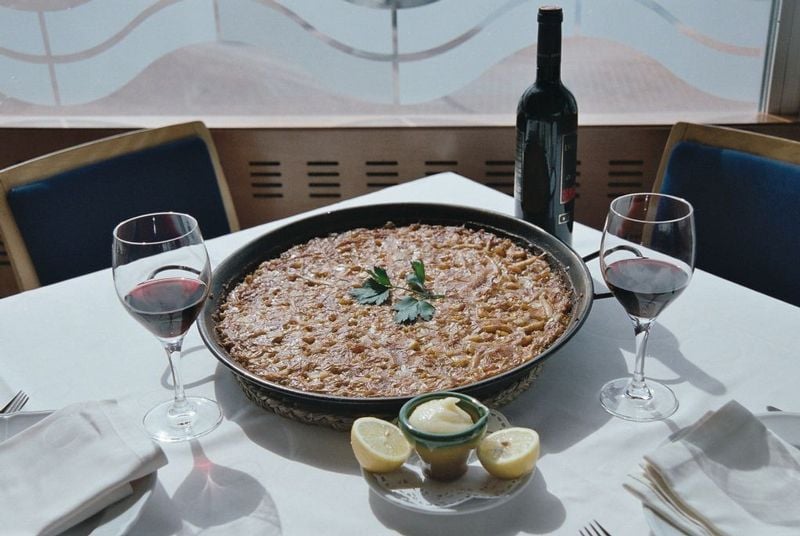 In the words of a master
The great Valencian designer Javier Mariscal, whose works include the chair in the Big Brother diary room, summed up the importance of rice. He said: "For me, the great symbol of Valencian nationalism is to go to eat a paella on the beach."
Recipe for Valenciana Paella
800gr chicken
600gr rabbit
400gr DO Valencia rice
125gr lima beans (known as garrofo)
250gr green beans (ferradura)
100gr fresh white beans (tavella)
12 snails
2 tomatoes
1 garlic clove
Saffron
Paprika
Sprig of rosemary
Olive Oil
Salt
1. In a paella dish, slowly fry small pieces of chicken and rabbit. When the meat has browned, add the vegetables.
2. Add the peeled and chopped tomatoes, chopped garlic and paprika to taste. Cover with water. Add the rosemary and snails.
3. When the water starts to boil, add the rice so it is evenly spread out. Add the salt and saffron. Boil for eight minutes and then cook slowly for a further eight minutes.
4. Let it stand for a few minutes before grabbing a spoon and diving in. Paellas are traditionally eaten from the pan and shared between family or friends.