Parque del Molino de agua - Watermill Park - La Mata
Adventure Family Fun Lifestyle
Watermill Park - La Mata
Parque del Molino de agua - Watermill Park - La Mata

We absolutely love this park, Parque del milino agua, its definitely our favourite park locally. The name translates in English to Watermill Park and there is an old water pump located at the entrance to the park which would have been used many years ago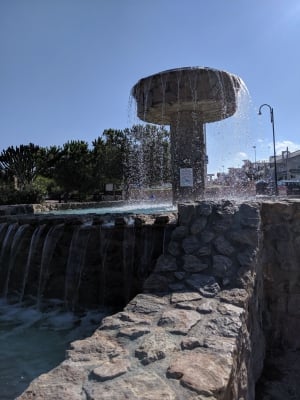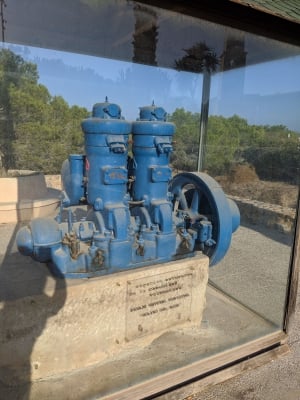 The park itself is absolutely stunning and very tranquil, the waterfalls running through out the length of the park are majestic, they lead to the large pool at the bottom of the park surrounded by a beautiful backdrop of even more trees and vegetation.

The way the sun light shines onto the water through the pine trees that are abundant throughout the park is absolutely glorious and the fact that the park leads to La Mata beach make it a amazing place to visit.

Children love walking along the walls of the water features, bathing is prohibited in the pools but we have quite often seen people taking a little secret dip.

The pine trees are very mature and create the perfect setting and the park is extremely well maintained. There are some beautiful sounds to be heard with all the birds that frequent the park, enjoying themselves flying between the trees, definitely a place for nature lovers.
I'm would avoid visiting here during procession caterpillar season though with all the pine trees – eeeekkk
Beautiful setting for a picnic
The park has many picnic benches dotted through the park that can be used to host a family picnic or day out with friends, the setting here is gorgeous with lots of shade available from the tree canopies and I can understand why so many locals would take advantage of having this park on their doorstep.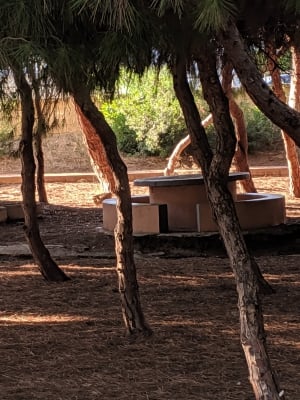 Pathway to La Mata beach
Once you reach the large pool at the end there is a pathway that leads direct to La Mata beach through the sand dunes and onto the timber walkways.
We always pop to the beach for a paddle in the sea and play in the sand before we head back through the park, its a great way to pop to the beach, feel the sea-breeze and sand beneath your toes without having a full beach day.
There are a couple of beach bars either side of the pathway when you arrive at the beach which are open during the summer months.
Location and directions
The park is situated in La Mata, past the main beach area heading towards Torrevieija
There is plenty of street parking available situated around the park entrance.