Costa Blanca community spirit is high during the Coronavirus lock down.
Editorial Press Releases
Dealing with lockdown the Spanish way.
Our Top Experiences and Tours in Alicante:
If youʻre booking your trip to Alicante last minute, we have you covered. Below are some of the top tours and experiences!

I really admire the amazing community spirit seen in our region and all over Spain over the last 10 days since the Coronavirus Covid-19 lock down began.

10 days ago, our lives all changed drastically in a very short space of time, we may have lost our freedom for the time being but we haven't lost our sense of community, positivity or gratitude.

As soon as the decree was given in Spain, people began rallying around, offering their condolences for events that would have to be postponed, birthday parties that would be cancelled, businesses that would have to close, holidays that would have to be cut short or cancelled, this list goes on and on but one thing was for sure, everyone was very supportive of each other and of the new rules that we now have to follow. We understood what was important and knew what was expected of us.

In times of despair comes inspiration and this has been seen all across Spain in the last few days and in our province of Alicante, we have seen some amazing acts of kindness and solidarity.
 
The National Applause
As the number of positive coronavirus cases started to rise, the implication of this virus on the  healthcare system was realised, as a special thanks to the key workers a national applause is now given across all of Spain.
At 8pm every night hordes of people take to their balconies/roof terraces or into their gardens to applaud the health service and police, the people on the frontline keeping everything together, fighting this terrible virus whilst we the general public stay at home and help in the only way we can, by staying indoors.
In Alicante province we have seen singers and musicians taking to their balconies to offer mini concerts for their neighbours and friends, it really is the most amazing feeling seeing how community spirit is being kept alive during these difficult times.  
Entertaining the community
Professional singers & entertainers across Alicante & the Costa Blanca have been providing free live facebook concerts to keep their communities entertained.
The best of Benidorms drag queens, singers, comedians & musicians have come together to offer free live gigs over at the 
Benidorm lock down live shows
 group. This group has been set up by
Alicante Transfers
 who also run Benidorm Events to showcase the talents of local entertainers and keep the masses entertained at home. Benidorm was very busy with tourists enjoying their holidays when the lock down was announced so this is a great way to entertain those Benidorm regulars who are now back home as well as isolated locals.
As well as the virtual concerts at home, people have been getting creative and thinking out of the box, on Saturday there was
a glam night in
event hosted by Tracy from
Orange Casas 
, people attending the Glam night in had to create a 3 course dinner party menu to share with the group prior to the event and then post pictures of their culinary creations during the course of the event whilst enjoying their own personal dinner party at home.  
Lady Jazz
 who is a very talented singer from Alicante offered up her services for the event and serenaded the group live with a 2 hour gig on facebook. There is another event next Saturday, this weeks theme being a virtual cocktail and glam nibbles party. You can join in the online party too by joining the facebook group
here
.
Lady Jazz
has also started Sultry Sundays, live from her home to yours every sunday, you can find out more about the weekly event
here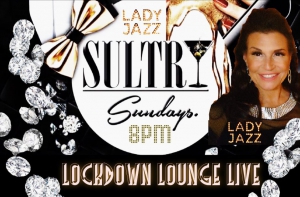 Totally Dance
owner Susan Faulkner has been offering free online Zumba classes via her group page
Susans zumba girls
 as well as setting challenges for her Totally Dance girls & boys to keep them fit and healthy during the lock down whilst they are missing their regular dance classes, they are all busy practising their dance routines for the summer fiestas in hope that they will still go ahead after this crisis is over.
Yoga is great for the mind body and soul and during these unprecedented times would be a great addition to anyones daily routine.
Pop up yoga Costa Blanca
 owner Caroline started a
Lock down yoga group
 on facebook and has had lots of new members join, such a great initative, keeping us happy & healthy whilst living life indoors.
As most parents of young children would agree, the lock down is hard on our little ones, they don't fully understand the situation and can be anxious too overhearing all these grown up conversations so keeping them entertained is imperative. Rosie who is a Spanish & English tutor here on the Costa Blanca started an amazing group called 
Quarantine with kids 
which is full of like minded parents sharing ideas of things to do at home with kids, from slime making to science experiments & family yoga to homeschool resources as well as a recommended activity of the day from Rosie, which is a great way to try new things if you not feeling very imaginative.  
Serving the community
When news of the lock down was announced, a lot of businesses worried how they would stay afloat, as well as positive news of financial help from the Spanish government quite a few restaurants have decided to offer home delivery during the lock down, not only is this helping their businesses stay open but its a massive lifeline to the community who might struggle to get out for food supplies, people who have disabilities or are unwell or just to help keep people out of the supermarkets and still well fed.
The Orange Tree
 who normally operate as a restaurant and fish and chip takeaway quickly offered to establish a delivery service which was very well received in their community. I have read some great reviews from customers who have found their service useful over the last 10 days and although only available in Algorfa village at first, due to customer demand they have now began serving the local urbanisations of Algorfa too. The Orange Tree fish & chips are the best in the area, I wish we lived closer to get a delivery ourselves.
Chandelier 
sports and entertainment bar were due to have their grand relaunch the day after the lock down began, as heartbreaking as it was for them to have to cancel they soon realised they wanted to find a way to help the local community and soon realised they would be able to offer a home delivery service, again this has been well received by the La Finca community and other parts of Algofa. Gareth has also been hosting live game shows such as play your cards right via their
facebook page
and offering free meals as a prize for winners. Keeping the community fed & entertained.
The vegetable garden
 are a commercial fresh fruit and veg supplier based in Cox who have turned their hand to supplying residents with home deliveries during the lock down after bars, restaurants and cafes were forced to close, not only is this great for the community, some of who may struggle to get out or are high risk, its also a great way to reduce numbers further at the supermarket and keep social interaction low. Another great example of a business finding alternative ways to work under current legislation and providing a well needed service. I have had a delivery off them myself today and I would highly recommend them, great service and great price.
My friend in Spain
are a very new business, having only recently been masterminded by founder Martin as a new style of telephone interpretation service they realised their services would be in need during these difficult times and wanted to offer help to the community as much as they could, not only have they offered local translators the chance to use their telephone system for free so they can carry on helping their customers in need without risking infection but they have also offered to donate all proceeds for any health related calls during this time to the united nations foundation and the swiss philanthopy foundations covid-19 responce fund. 
When the lock down in Spain was first announced, Benidorm was heaving with tourists enjoying the winter sun and with St Patricks day around the corner (one of the biggest events in Benidorm) it was obvious the lock down would cause unease and confusion with tourists. With pubs, restaurants & beaches being closed, holidaymakers were forced to stay in their rooms, phone lines to the airlines were busy and people were starting to worry but luckily Benidorm tourists had 
Alicante Transfers
 to help make the situation easier for them, working around the clock their team helped many tourists in need and are currently the only transfer service allowed to operate in the area ( as well as normal taxi services). Rafa even drove 2000 miles across Spain to collect a local resident who had been studying at university and couldn't get back to his home, now that's dedication to the community.  
Finding the positives
Even though we are facing a surreal existence right now, staying positive and realising there are benefits to staying in quarantine (beyond saving lives) is important for our mental wellbeing.
Reduction in pollution
The first major benefit to the world gradually being put  on lock down has been shown in China where pollution has been greatly reduced, the earth is healing itself and is a great sight to behold. maybe this experience will teach the world and make us realise the changes we need to make to keep our planet alive.
More time with your family 
I think most of us will agree that we are always wishing for more family time, we look forward to our weekends/holidays and time off with our family. This is probably the only time in our lives that we will be asked to stay home, embrace this time we have been given, there are plenty of fun things you can do at home as a family, from playing games to crafting, baking cakes to watching films, enjoy it whilst you can.
Time to get jobs household done
I bet each of us have a little (or large) list in our heads of jobs we have been wanting to do around the house if only we had the time ,well now we do!  Its time to de-clutter, have a spring clean, fix that flickering light, paint the lounge and do a little gardening.
Find or ignite a new interest
How many times do we wish to have more time to take on a new hobby, learn a new language, bake and cook more? There are so many things we could do with this extra time at home, use your time wisely and you will come out of this having gained more than just feeling refreshed from all the extra sleep.  
Stay Healthy - Stay Home - Save lives
Please everyone stay safe, look after your family, stick to the rules and hopefully we can save lives and go back to normality as soon as its safe, we all have our part to play