Family Fun in the Sun
Family Fun
The first thing to decide is which resort is right for you...
With its temperate climate, hundreds of kilometres of safe sandy beaches, theme parks and child-friendly hotels forming just some of the attractions of the Costa Blanca, it is the top choice for thousands of families every year.
The first thing to decide is which resort is right for you. Most have safe, sandy Blue Flag beaches with shallow bays which are perfect for paddling or for youngsters to go swimming. You can wade out for a long way before the water even reaches your tummy in many resorts. The water is crystal clear and you can have fun watching the little fish swimming around you.
Some of the best beaches can be found at Benidorm, Orihuela Coast and Torrevieja. These popular resorts have the bonus of being less than 30 minutes' drive from Alicante's El Altet airport. This is a big factor if you don't want to be stuck in a car with impatient kids crying "Are we nearly there yet?" every five minutes.
You might fancy a small B&B-type hotel, all-inclusive accommodation, hotels with children's entertainment, a villa with your own pool, or maybe you prefer self-catering and want to go for an apartment. These resorts will have plenty of choice to suit your needs and your budget. If you want to go all-inclusive, you won't need to wander far from your hotel complex as everything is provided on your doorstep. If you choose other accommodation, you may need to think about hiring a car. It's much easier to load children's bags, toys and beach equipment into a car than to lug them on to a bus or local train, which is picturesque but can be slow and may become tiresome with the little ones in tow.
Something a little different?
If you want to head inland and keep away from the coast, there is a fun place to stay in Ibi, Alicante, called the Hotel del Juguete, which translates as the Toy Hotel. The rooms are decorated with different toys such as building blocks or rocking horses painted on the walls. Many years ago, Ibi was a huge centre for making tin toys and this hotel pays tribute to its fascinating history. The town has a toy musuem where you can see old toys from many years ago, before electronic or remote-controlled toys were even thought of. Ibi was also a huge ice-cream making centre in the 19th century and a special fiesta is held every February in honour of this important tradition.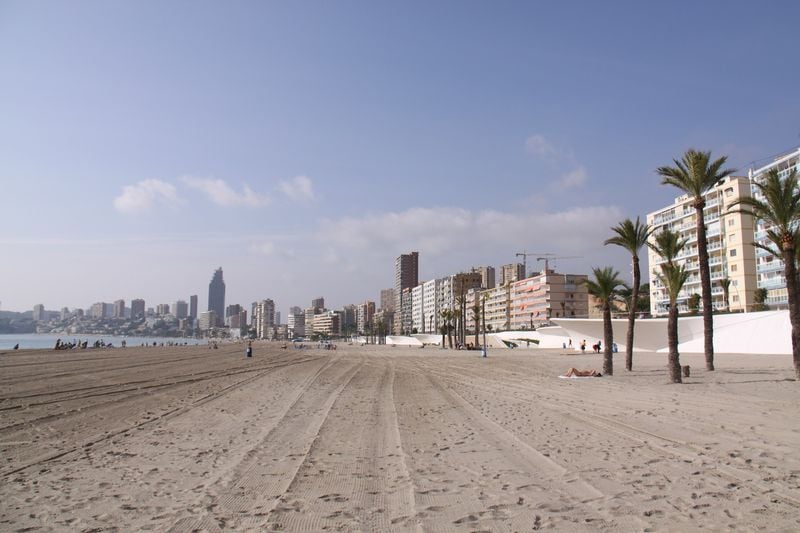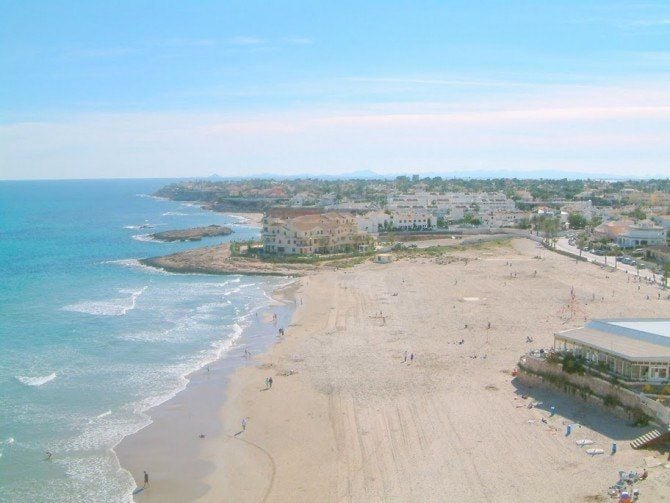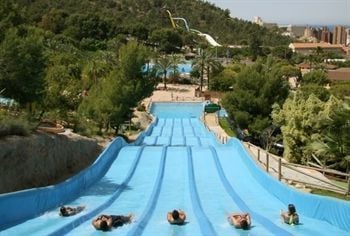 Have a splashing good time
If you have active children who want to let off steam, Torrevieja, Benidorm, La Zenia, Santa Pola and Playa Flamenca are close to many of Costa Blanca's most exciting theme parks. The best choice - and many would say the best theme parks overall - can be found on the outskirts of Benidorm. Stay in or around Benidorm if your family loves spending hours on white-knuckle rides or splashing around in a water park.
Benidorm has four fantastic theme parks, which are all completely different. At Terra Mitica, you can take a tour through ancient Egypt, Rome, Greece and the Mediterranean while testing your nerve on specially-selected rides, such as the Minotaur's labyrinth, the Inferno, where you spin like a ball at 60km/hr, or follow in Jason's footsteps along the rapids of Argos.
The next day you could head to Terra Natura wildlife park which is home to more than 1,500 animals of 200 species including many in danger of extinction. More animals can be found at MundoMar where you can enjoy watching the dolphins and sea lions or even get the chance to be an animal trainer for the day.
Need to cool down after all this excitement? Spain's first water park opened in Benidorm in 1985. The award-winning Aqualandia has a great range of water rides, slides and splash pools for all the family to enjoy. There is another water park, Aquopolis, at Torrevieja, if this is closer to your resort. It reopens for the summer on June 4 and you can beat the queues if you buy tickets online or you can buy a season ticket to save money if you intend to go several times.
Just south of Alicante, children of all ages can let off steam at Pola Park, Santa Pola. Attractions include bumper cars, karts, quads, bouncy castles, mini-golf and roundabouts.
Look out for coupons giving discounts to the theme parks in the tourist information offices - you can always ask at the counter if they have any available. Also, Lidl supermarket quite often offers money-off coupons for the theme parks if you spend €20 or more. Look for notices by the checkout to see if anything is available.
Still stuck for something to do? Why not head inland a little way towards the Jalon Valley (where you can also pick up some decent wine and olive oils in the bodegas - wine cellars) to try out the VitalParCentre if you want to try your hand at orienteering, rock climbing, obstacle courses or sports. You will also find most resorts have offices where you can hire jet skis or quad bikes if you prefer to make your own fun.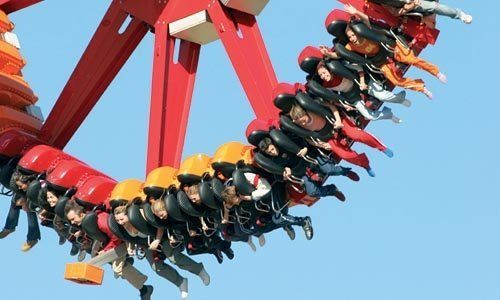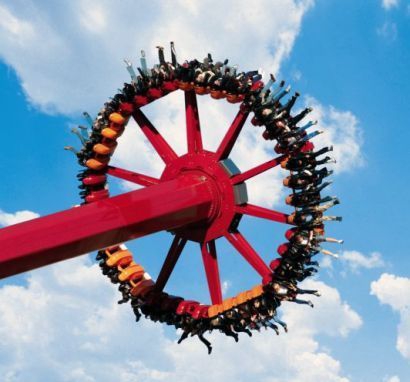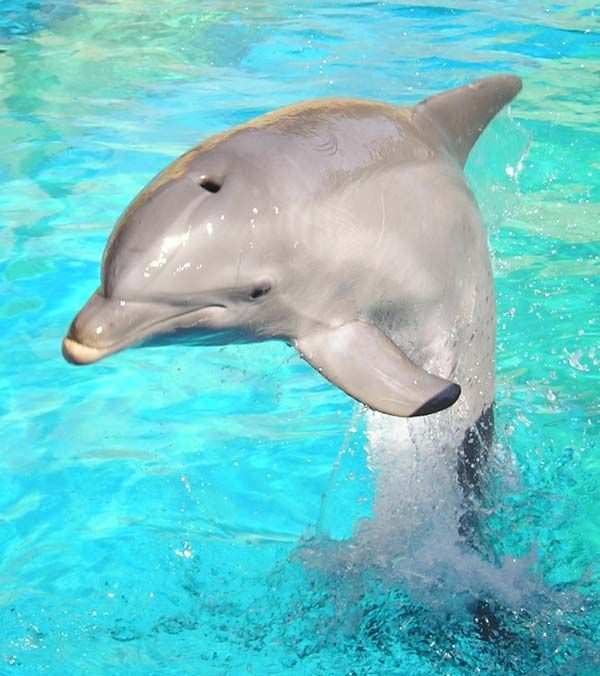 Food for thought
After all this excitement, you and your family should have worked up a healthy appetite. This is not a problem. The Spanish love children and this extends to the way they conduct business too. Most restaurants will welcome youngsters with open arms. Some will have special children's menus or else you could order a starter or share a couple of main courses between three or four of you. This is a particularly good idea if you are ordering paella because it can be huge.
You could also order a couple of side dishes or tapas for your children. They might like to try the croquettes filled with ham, cheese or fish. They're like cigar-shaped fishcakes and very good. Meatballs (albóndigas) are also very tasty along with tortilla (omelette) or Russian salad made with tuna, vegetables and mayonnaise.
Be aware that the Spanish eat very late in the evenings. If you're used to eating at teatime (5pm-ish), you may find the restaurants have stopped serving lunch and do not open for dinner until 8pm or even later. You can still fill up on snacks or tapas in the meantime.
You will also find many bars are near a small play area so you can drink outside while still keeping an eye on your children. Others have play areas, such as ball pools, to keep them occupied.
The Costa Blanca has been the first choice for families for many decades now, initially attracted by the low air fares, beaches and restaurants. Now there are first-class theme parks, adventure parks and sports to add to the ever-growing list of 'things to do' in the Alicante region of Spain.