Dramatic parades symbolise Easter in Alicante
Arts & Culture
Written by Francesca Violet Reynolds

Holy Week or Semana Santa as it is known in Spanish is one of the most flamboyant religious festivals to be seen in every city and town of the country as part of Spain's Easter celebrations.  
The festivities are held over an eight day period from Palm Sunday right through to Resurrection Sunday.  
A series of spectacular week long pageants and processions take place yearly to mark the occasion with large floats known as pasos carrying lifelike figurines and effigies depicting scenes and characters from the bible.  
The floats are paraded through each district by members of the local Catholic Fraternity or Brotherhood.  
The sculptures portray a variety of scenes from the gospel such as the Passion of Christ and the Sorrows of Virgin Mary and are in many cases the authentic masterpieces of famous Spanish artists.  

The festivities begin on Palm Sunday with the first series of processions taking place in neighbourhoods up and down the country.  
Pageants range from dramatic displays to at times intense and solemn, spiritual affairs.  The procession is an enactment of the journey made by Christ from his crucifixion and carrying of the cross right up to the moment of resurrection.  
Paths are flanked with Roman soldiers in authentic costume to accompany the route and everywhere the scent of fresh floral bouquets drifts on the Alicante breeze.
A common feature of the processions is the nazareno penitential robe which consists of a tunic and hood mounted by a Capirote or conical tip.  The pointed hat was known to be worn by clowns and jesters during medieval times as a means of portraying their stupidity to gathered audiences.  
Later, in line with the theme of ridicule and self-abasement, the pointed hats were once again used when vexing criminals. The criminal was forced to wear the hat and walk through the streets, whilst onlookers threw rotten vegetables, spat on them, and hurled insults.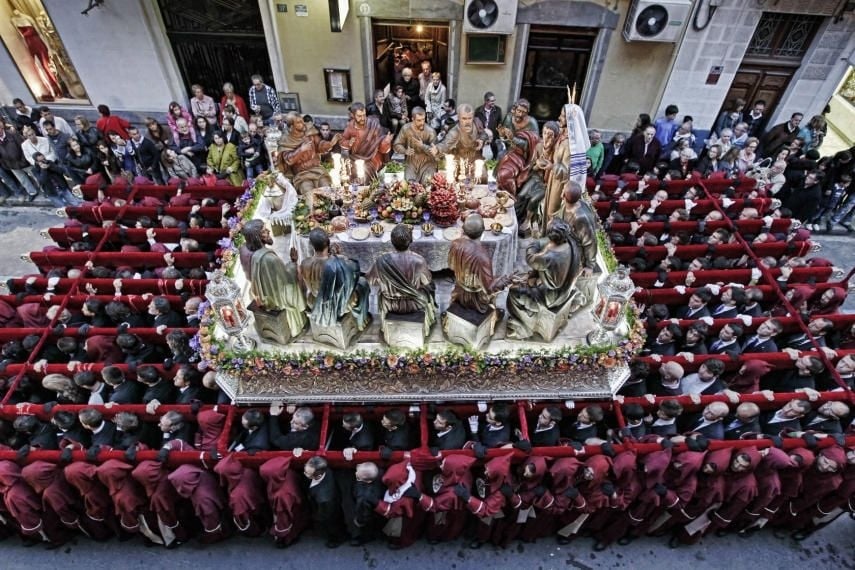 The method was later deployed during the celebrations of Holy Week in Mediterranean countries where penitents would walk through the streets with the same type of pointed hat.  
This was viewed as a submission to self induced injury in order to repent for sins committed against religion.  The participants could however cover their faces so they would not be recognised as they sought atonement and the tradition has continued ever since.  This is one of the more striking features of the parade procession as the robe itself embodies a rich history.  
The processions and ensuing festivals are usually a contrast between deep religious adoration and joyous revelry afterward but one thing is for certain - Easter in Alicante will prove to be an unforgettable experience!  
See also Passion Reigns in Alicante at Easter