Hercules FC first team squad
Celebrities Family Fun
Ex-Barcelona players Adria Vilanova and Moha join the Alicante squad
While in Alicante we'd certainly recommend going to a football match. The atmosphere is incredible plus you could get the chance to see some superb skills on the pitch and spot some potential stars of the future.

Hercules FC play at the Jose Rico Perez stadium in Alicante. They have spent much of their history in leagues 2a and 2b but have tasted first-flight football against the likes of the mighty Barcelona and Real Madrid, most recently in 2010/2011.

So let's meet the Hercules FC players for 2017/18.

Goalkeepers
Ismael Falcon: One of their star signings to replace Chema who has gone to Eldense.
Ivan Buigues: Young player and one to watch. He's come up through the Hercules ranks and is quick between the posts.

Defenders
Adria Vilanova: Another one to watch as Adria is a product of FC Barcelona's youth academy. He's also the son of the coach Tito Vilanova who died of cancer in 2014.
Connor James: Born in Manchester, the left-back returns to Hercules after being at La Roda. He also played two seasons for Mallorca B.
Juanjo Nieto: Arrives in Alicante after making his debut in the second division with Real Mallorca last season. He's a young player who can help to build the team's defence this season.
Mikel Santamaria: Has played 68 matches in two seasons at Racing Santander playing alongside Samuel Llorca - the centrebacks who conceded the fewest goals in Segunda B.
Pedro: One of the young talents from the Hercules reserves, Pedro has been training with the first team for three seasons. He can also play as a defensive midfielder.
Paco Peña: Veteran, captain and an institution at the club. This is Paco Pena's seventh season at Hercules. He's strong in defence and dangerous in attack.
Pol Bueso: Defender with a lot of experience who can play at centre-back and left-back. He also once played at right-back which shows his versatility. He is an expert in winning promotion and has won three consecutive promotions to the second division with Albacete, Gimnastic and UCAM Murcia.
Samuel Llorca: Samuel Llorca returns home after spells with Celta Vigo, Alaves, Valladolid and Racing Santander. He has returned to Gustavo Siviero's team to help in the fight to win promotion. With his experience and leadership, Samuel is idolised by Hercules' fans.
Victor: Victor is another promising youngster from the Hercules reserves and was a fundamental part of the team winning promotion from Juvenil A to Division de Honor.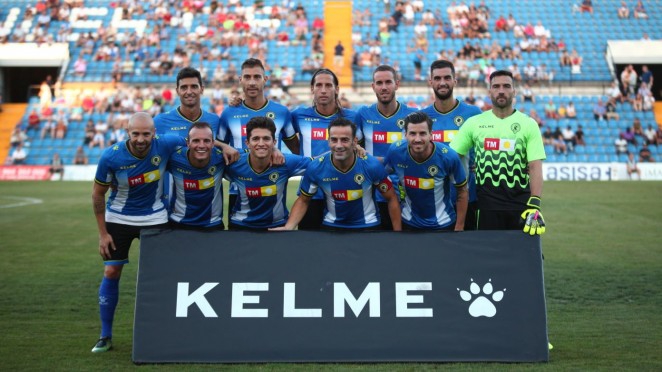 Midfielders
Checa: Jose Carlos Romero Infante, better known as Checa, has a lot of experience at this level. A defensive midfielder, he is able to strengthen the Hercules midfield.
Chechu Flores: One of the most charismatic players in the squad, thanks to his performance on the pitch in the past three seasons. He is able to play anywhere in midfield.
Moha: Mohamed Ezzarfani, known as Moha, is on loan from Barclona. He's powerful, aggressive and ambitious. Keep an eye out for this player.
Jose Gaspar: He can also play anywhere in midfield but usually plays on the left. He is a free-kick specialist with a powerful hit. He always looks lively in the opponent's area.
Jose Luis Miñano: Alicante born and bred, this is the attacking midfielder's fourth season at Hercules. He's a creative player, equally at home in front of the defence or more attacking. Great at making the killer pass for the forwards.
Navarrete: The Chilean midfielder has been playing with Granada B for two seasons and taking part in 69 league games.
Miguel Nieto: Extremely fast and attacking down the wing, he has been a key player in all the teams he's played for, including Real Madrid in 2006/07.
Pedja: Born in Elche, Pedja is another product of the Hercules youth academy. The right winger is a quick, quality player who can also drop to right back.
Pepelu: Denia-born Jose Luis Garcia Vaya, known as Pepelu, is certainly one to keep an eye on. He played preseason with Levante first team before joining Hercules. The Spain U19 international played 61 games with Atletico Levante UD in the past two seasons and scored eight goals. He made his first-team debut aged 17 in a Copa del Rey match against Espanyol.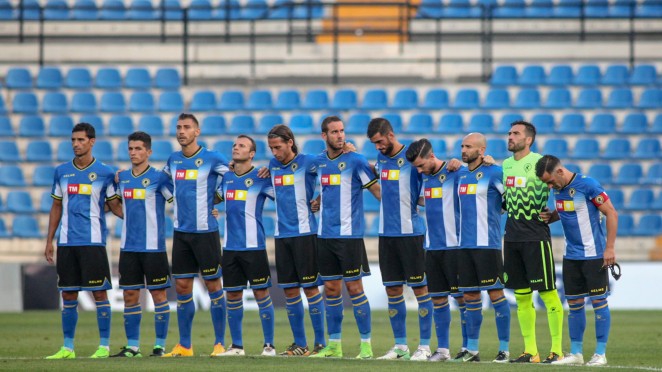 Forwards
Carlos: Was a decisive player for CF Villanovense last season with 12 goals in the 34 games he played, 30 of which were in the starting XI. The young striker is great in the air and has a knack of opening up space in the area.
Juli: Alcoy-born striker has played seven seasons in the second division with Cordoba, Alavés, Alcorcón, Rayo Vallecano, Elche and Polideportivo Ejido, and began his career in teams such as Alicante, Castellón and Benidorm. Experienced and versatile, he is regarded as Hercules' best signing.
Oscar Diaz: Another new signing who was at Real Mallorca last season and has 11 seasons in the second division since making his debut with Madrid Castilla in 2004/05. He has also played for Elche, Celta Vigo, Recreativo de Huelva, Jerez, Girona, Lugo, Valladolid and Numancia. In the season 2013/14 he took part in 30 first-division games with Almería.
Alvaro Salinas: Yet another player coming through the ranks at Hercules, he is destined to be a key part of the squad in the next few seasons.
Alejandro Tari: The centre forward made his first-team debut for Hercules last season against Villarreal B - and scored. Another promising youngster pushing through the ranks.

Manager
Gustavo Siviero: His first season at Hercules who was at Lleida last season. The Argentine coach has a lot of experience in Spain having trained Atletico Baleares, Murcia and Lleido as well as assisting Hector Cuper at Mallorca and Betis.

Keep checking our Events section to see when Hercules are playing at home.