A Magical Christmas in Alicante
Arts & Culture
Santa and his helpers have been busy making presents for children in other lands.
Christmas is a time for children, a time to enjoy the simple beauty of fairy lights, to see the twinkle in Father Christmas's eyes, and to find pleasure in searching for the perfect gifts for loved ones.
Alicante is a magical city by the sea where Santa has his special house by the beach, fantastic cribs are set up in the cathedral and the main square, at dusk fairy lights twinkle through the historic centre and children play on the special Christmas ice-rink.
Amid the festive fun, there are also plenty of shops including the famous Spanish department store, El Corte Ingles, high street names such as Primark, and traditional, family stores.

Walking through a Christmas wonderland
An important part of Christmas in Spain is setting up the crib or 'belen' as it is known here. Belen means Bethlehem and each town has impressive figurines and scenes depicting Christ's birth in a stable and the arrival of the Three Kings. In Alicante, there is a short walk around the cribs to get you into the Christmas spirit.
The walk starts at the Palacio Municipal in the town hall square. This impressive, historic setting has a Christmas tree, nativity scene and a flea market to buy Christmas treats. The traditional Christmas ice-rink is also set up here for everyone to enjoy.  Just up the street is a special museum dedicated to Christmas cribs (Museo de Belenes) in Calle San Agustin.  Open throughout the year, visitors can marvel at the vast range of nativity figures including very traditional and modern sculptures.

A short stroll to central Alicante is the fabulous open-air Christmas crib in the Plaza de la Montaneta. From Monday December 16, the classic nativity scene is installed with four different scenes.  Nearby are the Avenidas  Soto and Doctor Gadea, where a traditional Christmas market is held. This is also the shopping heartland of the city with many well-known brands and commercial centres including the Gran Via centre with more than 100 shops and the Puerta de Alicante centre with about 60 stores, free playground and a large Carrefour hypermarket
While in Alicante, make sure you have time to try one of the regional dishes such as paella or fresh seafood in one of the city's fine restaurants or enjoy a snack such as tapas in one of the old town bars. Weather permitting, you could also spend time on one of the city's sandy beaches.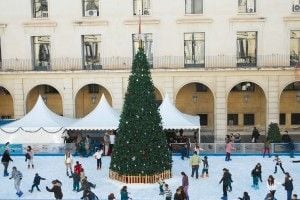 Santa's secret links to Alicante
Everyone knows that Father Christmas will be bringing presents – but only if you're good.  Otherwise you can expect nothing more than a lump of ugly coal. To have a better chance of getting what you want from Santa, you can visit him in his grotto in Alicante at La Casa de Santa. Write your card with all your Christmas wishes (don't forget to say please!) and take it to Santa's house with sea views at the foot of the Santa Barbara castle in La Ereta park. 
Apparently The Dutch legendary character Sinterklaas or San Nicolas lives in Alicante from the 5th of December, where his elves are busy making presents for children in other lands. The gifts are loaded on to a steam boat filled with oranges to take to the Netherlands, where St Nicholas is an idol. Did you see him this year?  
Don't worry if not, Santa is never too busy to listen to the children in Alicante and receive their letters. He'll surely greet you with a big smile and ask: "Have you been good?"