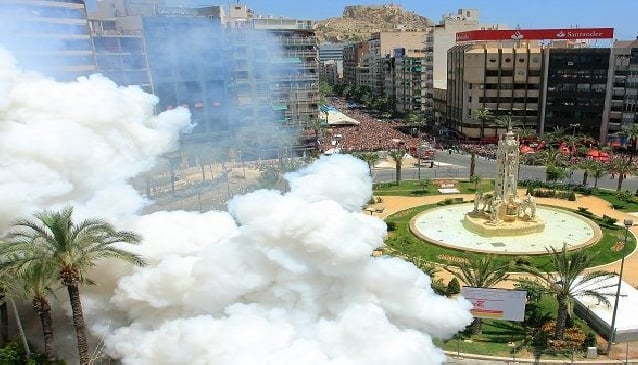 Come on Baby, Light my Fallas
Family Fun
The fun comes to an end when the fallas are set on fire on St Joseph's Day at around midnight
Spain loves to party, particularly at fiesta time. It holds a number of weird festivals, from bull-running in the streets to tomato fights. One of the wackiest is the wonderful fallas fiesta held every March in the Valencia region.


All year, artisans create massive papier-maché statues, often poking fun at politicians, sports stars or famous musicians. Rolling Stone Mick Jagger starred in one a few years back. Imagine those impressive lips, even more exaggerated, on top of a statue about 20 metres high.
Valencia holds the biggest and best fallas fiesta but it is very crowded, very noisy and difficult to get a hotel room. Luckily, there are related events in the Alicante province, particularly in Denia and Benidorm, which hold their own smaller versions. You can enjoy the fun at a fraction of the cost. You can also take a day trip to Valencia to see their fiesta if you wish.

Satirical statues
It's often said that Spaniards are noisy. It's also boasted that Valencia is the noisiest city in Spain. This is definitely true at fiesta time. During the five days of the fallas fiesta, you could feel as though you have wandered into the middle of a war zone because of the constant boom of the firecrackers day and night. Twice a day, there are also the noisy firecrackers called mascletas, which are loud enough to make the windows shake in the nearby building.
The main attractions are the many statues, which are several storeys high. The streets are blocked off so these giant works of art can be erected in the middle of the roads. They can make a satirical point about the state of the economy, local politicians or take a lighthearted look at football stars such as David Villa. Each neighbourhood - similar to a ward district in England - makes its own fallas and judges visit them to vote on their best. The individual figures of fun are called ninots while the entire ensemble is called a falla.
Specialist fallas artists spend the year making moulds, shaping the statues and painting them, only to watch them be burnt to a cinder on St Joseph's Day, March 19. Bear in mind, that the largest statues can cost more than €100,000 to produce. That's a lot of money going up in smoke!

Fantastic fireworks
The one thing you will notice during this fiesta is the tremendous noise. Don't go near children at this time whatever you do. They may look cute in their traditional costumes, particularly the girls who wear elaborately-embroidered dresses, but they are armed with firecrackers. They take great delight in letting them off as you walk past and giggling as you jump out of your skin.
The most noise is created at the hands of the specialist pyrotechnicians who produce the mascletas. In a nutshell, the mascleta is an explosion of co-ordinated firecrackers and fireworks. The sound is as important as the sight of thousands of little firecrackers going up in smoke. The noise can be well over 100 decibels and you can see the windows shaking in nearby buildings. You can watch the Valencia mascletas live on Canal Nou local television station at 2pm if you don't want to burst your eardrums. We did warn you they were noisy in Valencia, didn't we?
Crema de la creme
After five days of fiery fiestas, the fun comes to an end when the fallas are set on fire on St Joseph's Day at around midnight. The huge bonfires are known as the crema or burning. The fire brigade is standing guard to hose down the neighbouring buildings and make sure nothing else catches fire.
The bars and restaurants are packed so if you want a seat you will need to arrive early. This is a long night so it could be wise to enjoy a meal or some tapas to keep energy levels up until the crema begins. The fiesta is often accompanied by giant paellas being cooked on open fires in each neighbourhood or district.
Fallas starter
So who dreamed up this bonfire of insanities? As with most traditions, it has evolved over time to become a major tourist attraction. Its roots lie in the Middle Ages. Carpenters used planks of wood as candle holders in the winter. To celebrate the arrival of spring, they would burn these pieces of wood. Over time, the wood was dressed in clothes to look like a person (possibly a neighbour or church figure). Then carvings were made out of the wood.
By the beginning of the 20th century, three or four figures were produced for each falla and the bonfire grew bigger and bigger. Nowadays, the statues are made of cardboard, polystyrene or papier-mache and can be more than 30 metres high.


Where to see it
Denia: The tourist information office in Plaza Oculista Buigue, 9, close to the railway station, will have a map showing where all the fallas are. Most are within easy walking distance of each other and can be found in the main shopping street, Marques de Campo, the old town and the fisherman's quarter. A mascleta is being held in each district at 2pm.
Benidorm: There are six fallas which are held in Avenida Ametlla de Mar, Plaza de la Hispanidad and Calle Tomas Ortuno. Each district has a main statue and a children's one.
Written by:
Sarah Farrell
PUBLISHED: Jun 9th 2017