Are Your Feet Ready For Summer?
Lifestyle
Review of Tropic vegan foot care range
How to get pretty feet for summer

Who else thinks that sandals are looking particularly pretty this summer? Great colours, amazing designs and sandals that are made for walking in. But are your feet up to scratch? After months of being cooped up in socks and shoes, are your feet ready for summer? Your feet may be looking a bit jaded, with dry and cracked heels. But I've found the perfect way to ensure your feet are as pretty as the sandals you're stepping into. Tropic vegan beauty products have a footcare range which means you're just three steps away from pretty feet.

First I needed to soften those gnarly, rough bits of skin and awful-looking chapped heels. Tropic's Ocean Fizz Foot Soak did the trick. I found a bowl and just mixed about three tablespoons in warm water and frothed it up with my hands to activate the foam. I grabbed a book and plonked my poor old feet in the bowl of now fizzy water and rested for around five to 10 minutes. It feels lovely and tingly. It smells really fresh and certainly wakes up your feet. If you really want the mini spa at home treatment, you can put on a face mask while you're soaking your feet.

All Tropic beauty products are 100% natural with this fizzy foot treatment containing sea salt to exfoliate the outer layer of dead skin plus eucalyptus oil and peppermint oil to leave feet smelling amazing. This felt so good I've vowed to make it a weekly event with Spa Sunday being my chosen day for a facial and foot care. A cool glass of Bahia De Denia white wine from Bodega Xalo and some summer reading will make Spa Sunday even more special.

After 10 minutes (my feet were really gnarly), I dried my feet and got to work with the Tropic Polishing Foot Pebble. Its Bora Bora white sands gently exfoliate while the Tahitian volcanic ash gently buffs away the rough skin. This stone also contains eucalyptus oil and peppermint oil which create a delicious, refreshing scent. While rinsing and drying my feet I was amazed at how much softer my feet felt already.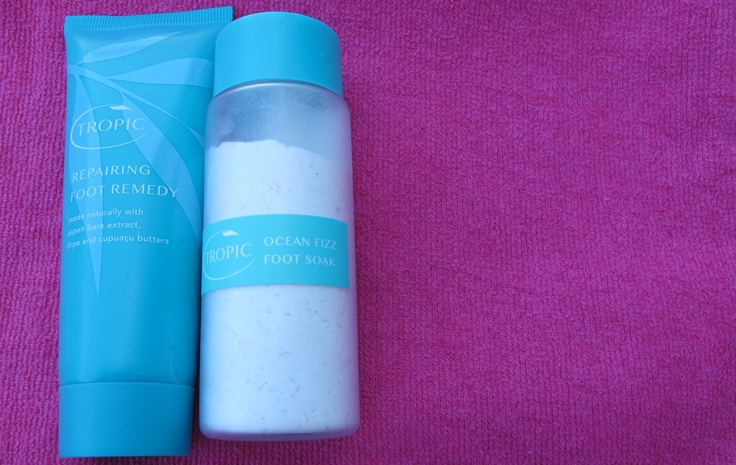 All I needed to do now was to massage in the Tropic Repairing Foot Remedy cream which is really nourishing and, again, smells divine. A tip on the Tropic website says that if you put this on at night, you should pop on a pair of cotton socks to lock in even more moisture while you sleep. All I had to do after that was to rinse off my face mask and within about 30 minutes, I had enjoyed a super speedy mini spa day at home using vegan, cruelty-free products from the Tropic skincare range.

To try the Tropic skincare for women and men for yourself, get in touch with Tropic ambassador Lizzie Clayton for more information on the right Tropic vegan beauty products for you or to host a Tropic pamper party. Lizzie Clayton can be contacted at email: liz@ngo.org.uk, phone 0034 684 451 076, Facebook page facebook.com/tropicbyLizzieClayton/