Business awards finalists in Spain
Alicante
GM Promotions rolled out the red carpet for the first business awards to recognise women – and their associates – for their entrepreneurial spirit and determination. All finalists received a gorgeous Jody Bell goodie bag with a bracelet, key-ring, chocolates and pen, as well as a fabulous buffet lunch at the Palau de Javea. 

Now the winners have been announced at the Gala Awards Dinner Evening on Thursday December 1 at Venta La Chata, N332 Calpe/Benissa.

My Guide Alicante caught up with the finalists on judging day in Javea and they all had one piece of advice for anyone thinking of working or setting up a business in Spain – Go For It!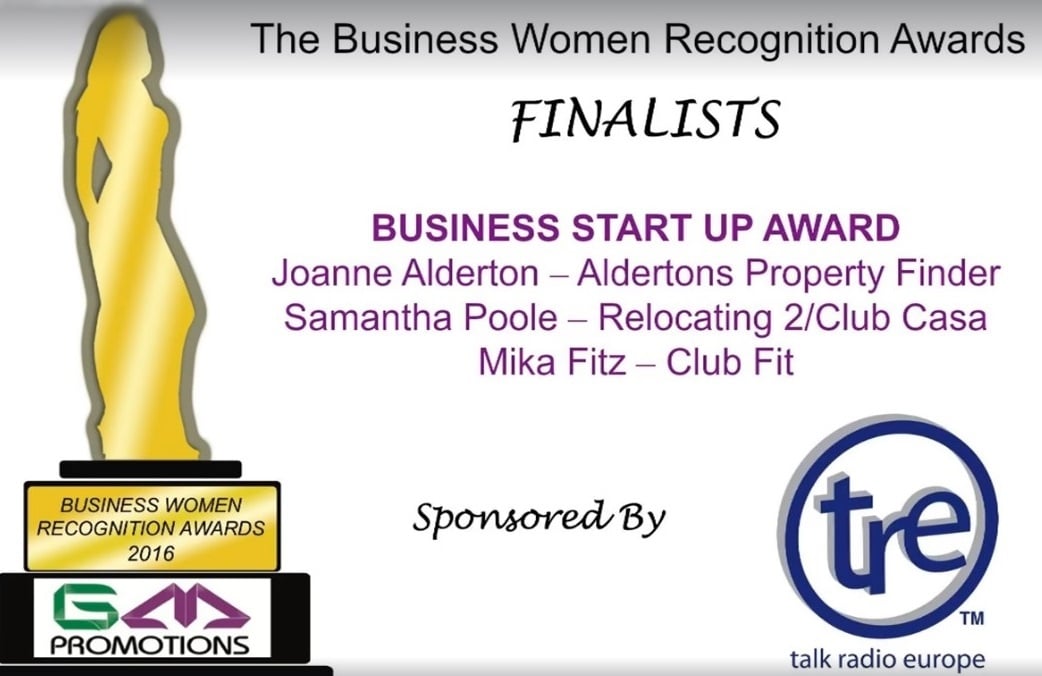 WINNER: JOANNE ALDERTON

Samantha Poole of Relocating2 and Casa Club said: "It's lovely to be recognised for work that you do. It's particularly difficult for mums to try to run a business with children.
She would recommend anyone thinking about working or starting a business in Spain to "go for it".
"Don't feel you can't do it. If there's something you feel strongly about, then go for it."
Samantha also advised people to make the most of the networking groups in the Alicante region and to integrate so that you are not just relying on the expats as clients.

Joanne Alderton, of Aldertons Property Finders, felt honoured to be nominated.
"My advice to people who want to move to Spain and set up a business is that you have to go in with all guns blazing because it is a do or die mentality. Spain is more entrepreneurial than the UK but you don't have that safety net in the background so you need to make it work.
"If you see a gap in the market, get out there and do it."
She recommended you find a way to sustain yourself for three to six months while you set up your business in Spain.

Mika Fitz, of Club Fit, said being nominated for the GM Promotions Business Women Recognition Awards was a great reward for all the hard work.
"To set up a business you need to prepare properly, plan ahead and be prepared to work hard. But it's no more difficult to set up a business here than in Austria or another country. You need to know the market and to get assistance from other professionals. You shouldn't think you need to do everything yourself. You also need to research the market to see if it makes sense to set up a business and you need to find your unique selling point. Customer service is the most important thing."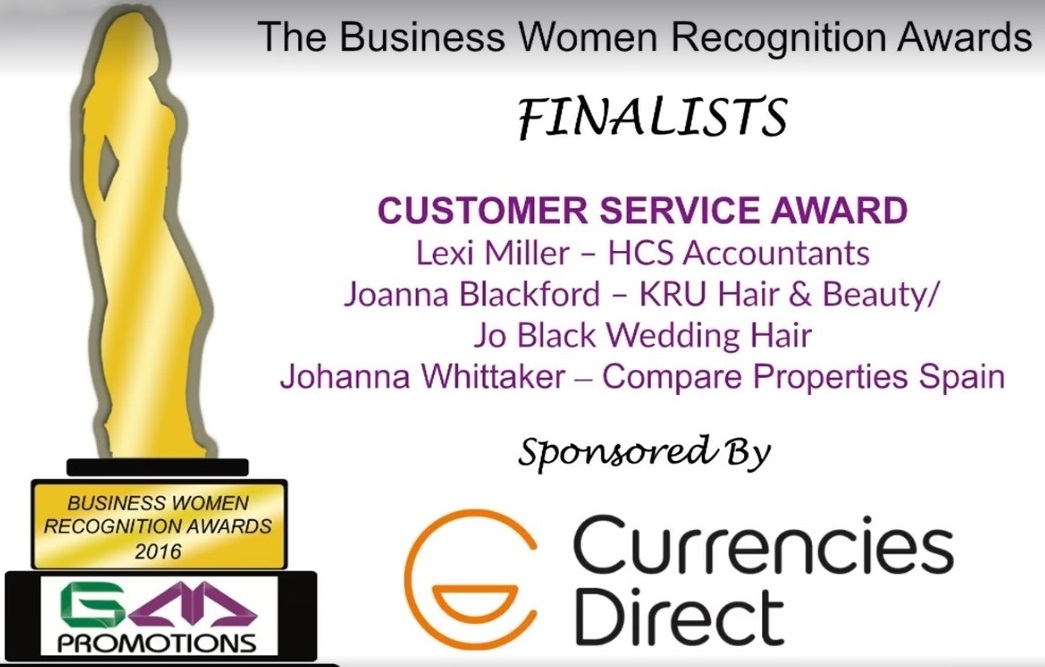 WINNER: JOANNE BLACKFORD

Joanne Blackford, of KRU Hair and Beauty, and Jo Black Wedding Hair, said it was a real emotional boost to hear what clients and business associates wrote about her when nominating her.
She encouraged people to work for a company first so they can learn the trade, make contacts and get to know suppliers.
"I would recommend anyone to work for themselves and to network to learn from others."

Lexi Miller, of HCS Accountants, said she was so proud to be nominated.
She advised people to get the right advice – in legal, tax and financial matters – before setting up a business and to speak to other people in your field.
"You need the right expert advice in certain areas, such as accountancy. The Spanish tax system is very different to the UK."

Johanna Whittaker, of Compare Properties Spain, burst into tears when Gina told her she had been put up for an award.
"To set up a business you need to be hard-working, have perseverance, stay focused and to have respect for your clients. You need to get the balancing act right between family and business demands.
"Customer service is the key because customers can turn into friends so build up a mutual relationship of respect.
"Spain is still very male orientated, especially in areas like the law. The key is to keep within the law and regulations that govern Spain and society – don't try to fight against it because you won't win. You'll need to find your niche within society and make your mark within that business."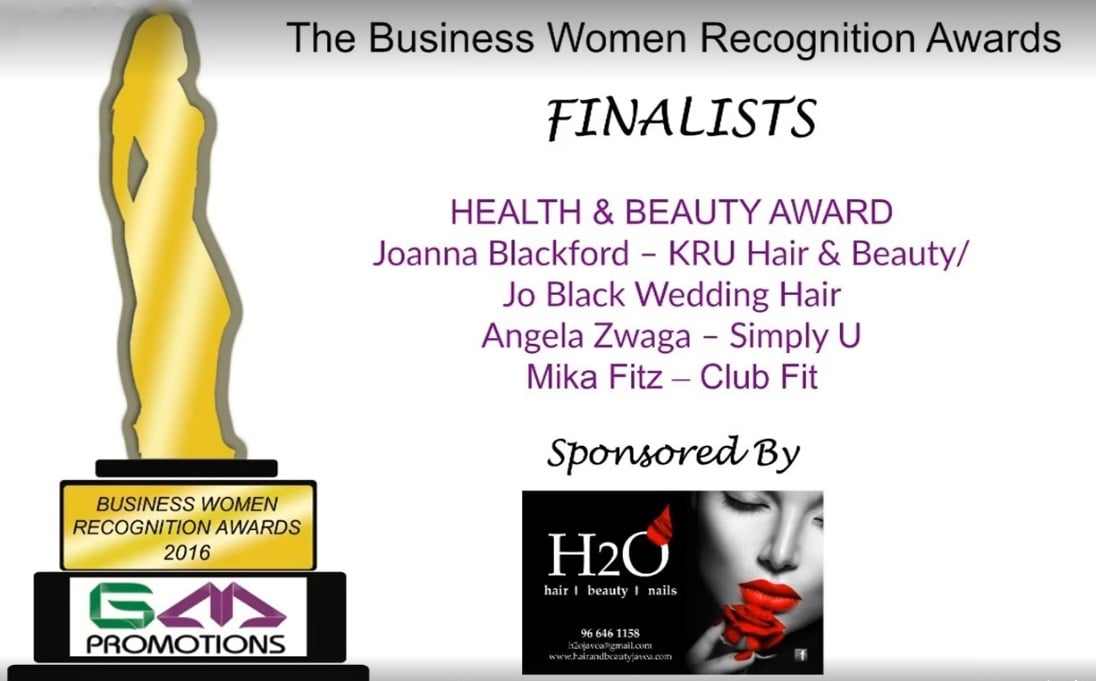 WINNER: ANGELA ZWAGA

Angela Zwaga, Simply U style coach, said it was such a compliment to be nominated because you don't realise how people see you.
"Because I believe in what I do so much, I get so much joy from it. I am making people feel great about themselves and feel so much better. "If you want to start a business, then believe in it, embrace it and empower it. I have met more women here with the balls to go into business than anywhere else. People communicate more here and it just motivates you here. It's so open, you don't sit indoors with the curtains closed."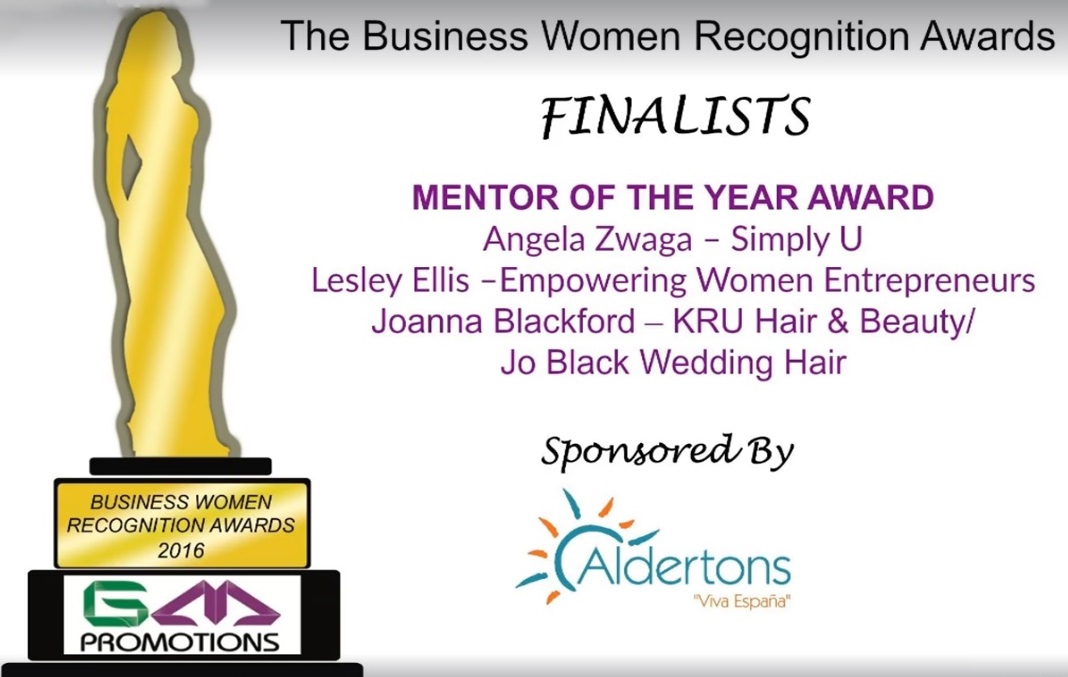 WINNER: LESLEY ELLIS

Lesley Ellis, Empowering Women Entrepreneurs, was "absolutely chuffed" and honoured to be nominated.
"I have been mentoring women for years. I love doing it and love helping people out. It's only now that I have turned it into a business."
She would recommend would-be entrepreneurs to contact one of the social groups in Spain, join the networking groups and Facebook groups, and ask advice from people who already in business.
"There's a lot of support among expats who tend to stick together and support each other. You don't see others as competition, we collaborate and work together.
"It's not the same as the UK. You need to find out if your business is viable and whether it will work in Spain."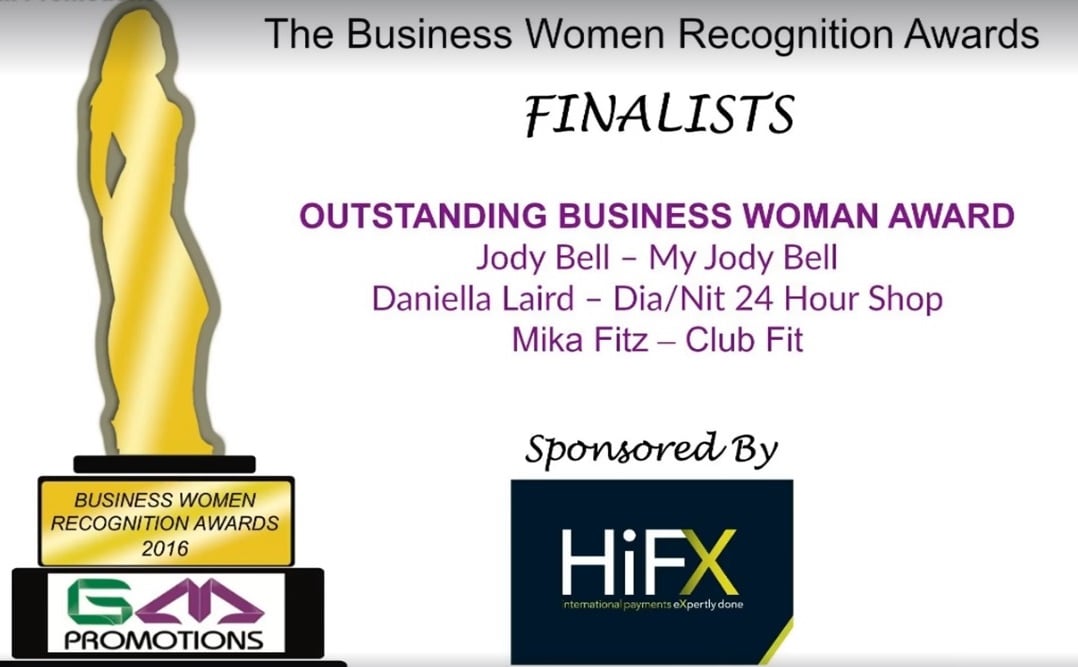 WINNER: DANIELA LAIRD

Daniela Laird, of the Dia/Nit 24 Hour Shop, felt it's a real confidence boost to be up for an award. Her shop is open 24/7, 365 days of the year, and only closes for 30 minutes on New Year's Eve for the countdown to midnight and to eat the 12 grapes.
"When I first opened I was doing 12 hours a day and seven days a week. After months of working like this, I just wanted to close."
Daniella stuck to her guns and carried on, so that now she has established a successful business and has four people working alongside her.
"So just stick in there. Keep a clear idea of your goals because it all works out in the end."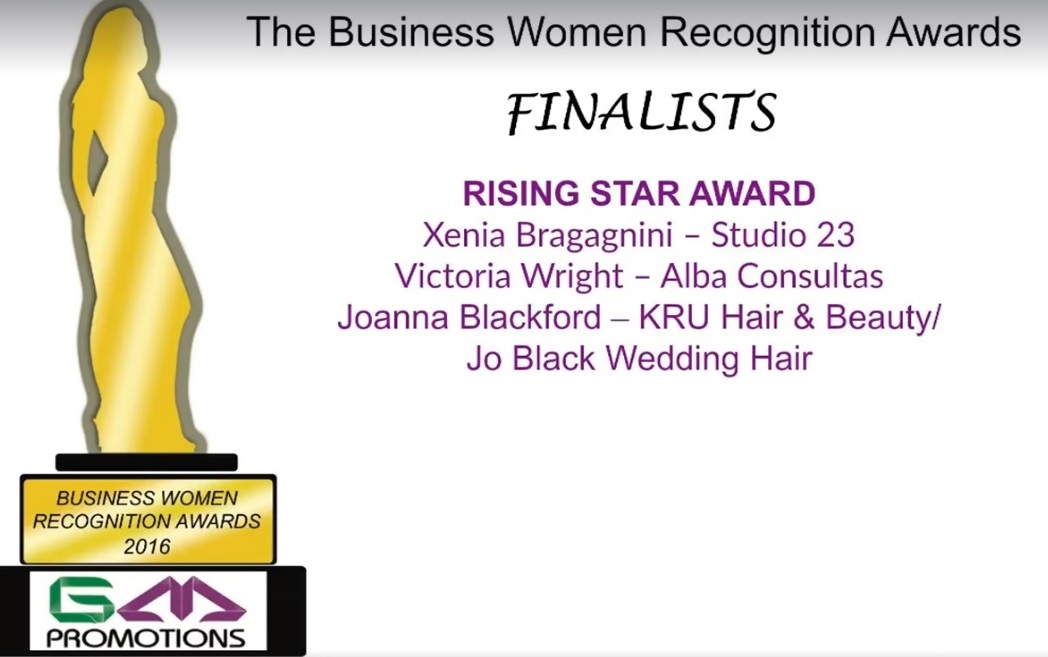 WINNER: VICTORIA WRIGHT

Xenia Bragagnini, of Studio 23 dance and performing arts studio, said it was lovely and very humbling to be nominated.
"You don't realise the lives you have touched but, for me, it's all for the kids, I'm very involved in the community. It's about given quality that's affordable. It's not about money, it's about seeing someone's face light up when they get something right after six weeks' rehearsals.
"My dad used to say that if you chase success, then the money will follow."
Through dancing, children can be themselves, boost their confidence and enjoy physical exercise,
Xenia added. "Someone has to be the next Beyonce and there's no reason why any of these kids can't do it."
"There's a lot of room for growth and success in this industry."
On the wall in Studio 23 you will see the inspiring quote: "hard work beats talent if talent doesn't work hard," which nicely sums up Xenia's philosophy.

Victoria Wright, lawyer at Alba Consultas, said it is lovely to be part of such an event and was appreciative of the clients who nominated her.
"I think Spain is a place with a lot of opportunities. If you have a good idea, then go for it! "I was employed by someone else for a long time before I became self-employed. Working for yourself is a great incentive. You need to remember to work to live not just live to work so don't spoil your life by working 22 hours a day. You don't need to earn as much as in the UK."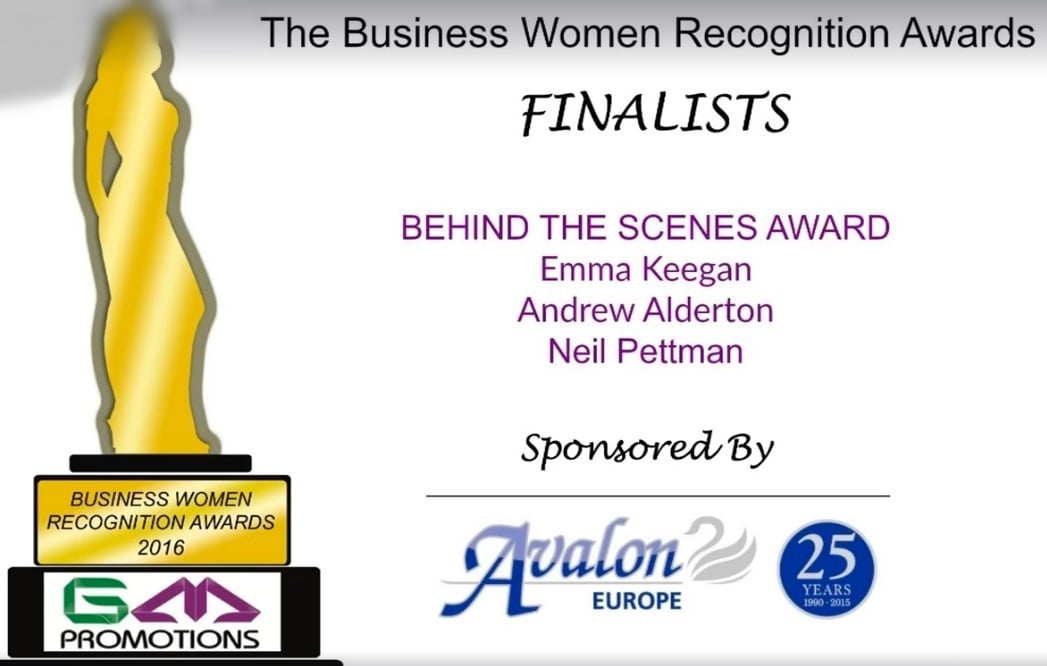 WINNER: ANDREW ALDERTON

Andrew Alderton, of Aldertons Property Finder, said it's a privilege to be nominated.
"When I first came out to Spain, it took about 12 months to settle in but now I wouldn't change it for the world. It's great for my two girls. They already have two languages, they can go to the beach every day just about and it's a better lifestyle. It's so much nicer than in the UK."

Emma Keegan, of Relocating2 and Casa Club, was gobsmacked to be put up for the award.
She advised anyone thinking of going into business to "do something that you know a lot about. "Don't just try to fill a gap in the market because it probably means someone else has tried and failed already. Do something you are good at and passionate about."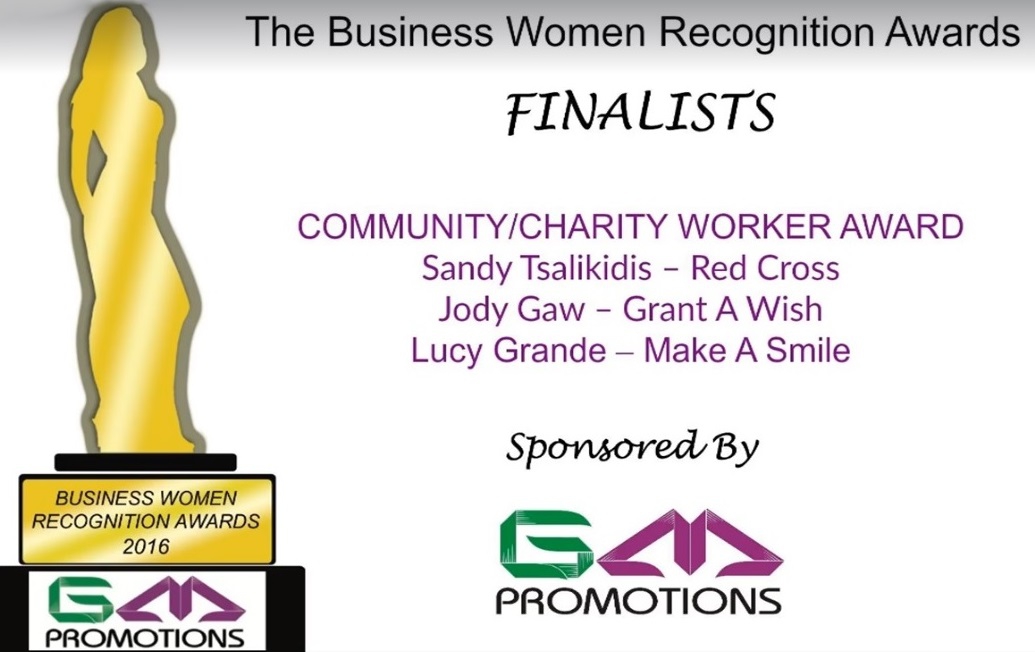 WINNERS: SANDY TSALIKIDIS, JODY GAW AND LUCY GRANDE

Sandy Tsalikidis, of the Red Cross, said she was proud to be nominated on behalf of the charity which does so much work for people in Javea, Gata de Gorgos and Pedreguer. They provide lifeguards on the beach, 24/7 ambulances and food parcels for 312 families as well as working round the clock to help people during the devastating fires in Javea this summer.
"The Red Cross relies almost entirely on donations," Sandy explained. "We need €33,000 a year for the ambulances as well as all our other work."
The Red Cross has dealt with 4,718 incidents on the beach, 75 rescues by boat and worked 36 hours straight through during the Javea fires to help 228 evacuated families, 25 dogs, four cats and numerous caged birds in the centres which were opened. The Red Cross also acts as an employment agency and CV writing service as well as holding courses for the elderly to keep their brains working.
This Christmas it will be providing 102 presents for local children who would others not receive a single gift from Santa.
Its motto is Give Food, Give Shelter, Give Hope. You can find out more by calling +34 965 791 961 or email ambulanciaparajavea@live.com. December 2 is the Dia de la Banderitas when the Red Cross will be out raising funds.

Lucy Grande of Make A Smile was glad to be nominated to raise awareness for the charity which helps provide food and necessities for the children's homes and Relleu home for children with mental disabilities. The EMAUS association which runs the homes is under receivership and so the 94 children rely on the MAS support even more.
Funds are raised through donations and different projects such as the Relleu self-sufficiency project where vegetables, olive oil and eggs are produced which are sold to customers in €10 or €20 vegetable bags each week as well as collecting pennies from heaven and recycling furniture and bric a brac.
This weekend, November 5 and 6, volunteers can help pick the olives and enjoy a lunch for €10 at Relleu while on November 30 the Christmas bag appeal is launched to provide 'useful' gifts such as toothpaste, shower gel, slippers, pyjamas, gloves, hats, pen drives for using in school or batteries, for example. There will be various drop-off points along the Costa Blanca as well as the Calpe Bed Centre.
More volunteers are also needed, especially the MAS junior warriors, who carry out so much work and raise funds for the charity.
For more information about their work, fund-raising ideas, or Relleu open days, you can visit the website www.makeasmile.es

Jody Gaw of Grant A Wish is the third nominee in the charity section. She set up the charity to help people in the community and has raised hundreds of thousands of euros for children in homes and orphanages, including the home in El Vergel, as well as the men's shelter and hospice in Gandia. The website is http://grantawish.es for more information about the work and upcoming events.