Transferring Money to Spain & from Spain
What's the best (and safest!) way to send your money to Spain?
At Smart Currency Exchange we'll help you protect your money when transferring it to Spain, whether you're buying or selling a property here, or receiving regular payments.

We understand why British people want to live in Alicante – after all, we chose to open an office here ourselves! This wonderful city and area ticks every box for affordability, being easy to reach, friendly and so, so sunny!

When it comes to exchanging your pounds to euros (or one of 34 other currencies), Smart Currency Exchange ticks every box too.

Service:
We've been helping British people buying property in or moving to Spain for over 15 years, and we're still the same friendly, family-run business as ever. Your assigned personal trader will be paid on service, not commission, and will be at the end of the phone, not hiding behind an app!

Trust:
Don't take our word for it, read the 1,100+ five-star reviews on Trustpilot, where we're rated "Excellent". We're regulated by the UK's Financial Conduct Authority (FCA) and registered with the HMRC too.

Controlling risk:
If you're transferring money to and from Spain, either regularly or as a one-off, the exchange rate is an unstable factor over which you have no control.

That can make budgeting for your life in Spain very difficult. If buying a property, just a 1% change in the pound/euro rate will change the price of a €150,000 acquisition by well over £1,000. Indeed, for property buyers or sellers, in the time between agreeing a price and paying/receiving the balance, the pound/euro exchange can change by 5 or 10%, costing you perhaps tens of thousands more expensive.

The good news is that you don't have to take that chance. Speak to your Smart trader about locking in your exchange rate for the year ahead with a forward contract, so you know exactly how much you have to spend.

It won't cost you a penny more, and will be at the same great rates that mean our clients come back time and time again.

Register today
Registering for an account is free and very simple, taking just a few minutes over the telephone, and there is no obligation to trade. Just give us a call on 0034 966 392 539, come along to see us at the address below, or email: spain@smartcurrencyexchange.com

When you've registered you can chat to your trader about the best way to transfer your money.

If you're still at the planning stage, read the Property Buyer's Guide to Currency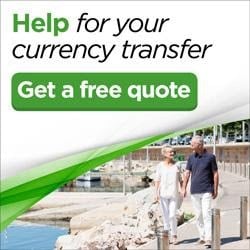 Or for a quick quote, click here.