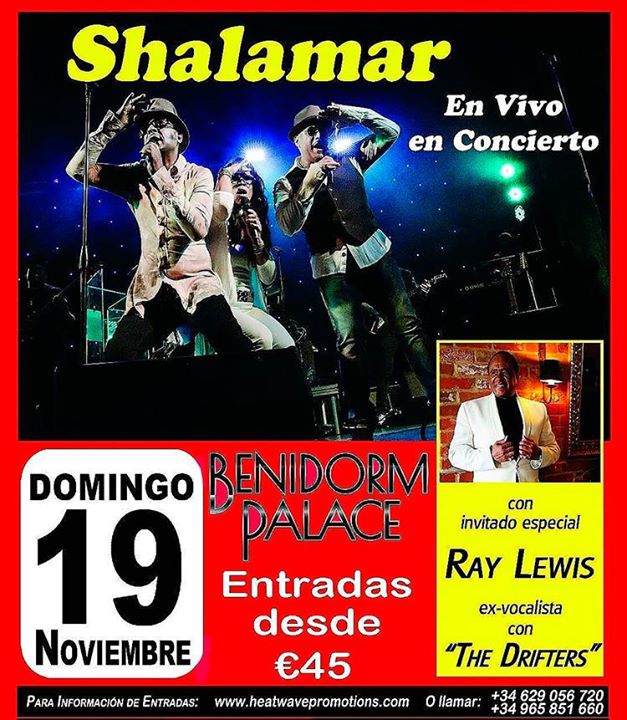 Shalamar
Benidorm Palace
Sun Nov 19th 2017 to Mon Nov 20th 2017 at 21:00 until 00:30
---
AVDA. DOCTOR SEVERO OCHOA, 13

,

Alicante

,

Benidorm
https://www.myguidealicante.com/events/shalamar
---
Benidorm Palace
MAKE ENQUIRY
Event Details
Come and sing along or dance the night away with Shalamar at the Benidorm Palace.
Gold VIP tickets are €140 with priority entrance, best seats in Benidorm Palace, meet and greet,and entry to the aftershow drinks with entertainment from Richie Alexandra
VIP: 75 euros also gets you top seats with entry to aftershow drinks with entertainment from Richie Alexandra [this is strictly a non smoking room]
Other tickets are €55 and €45,

We would like to advise anyone coming to the above performance to arrive as early as you can (NOTE: Doors time above) and to avoid bringing bags with you, where possible. Should any bags need to be brought to the venue; these will be subject to a search. Random pat-down searches may be carried out.

Their first hit was the 1977 Motown-inspired production "Uptown Festival", the success of which inspired Griffey to replace his session singers with vocalists Jody Watley, Jeffrey Daniels, and Howard Hewett (the latter replacing short-time members Gary Mumford and,later,Gerald Brown) in 1979.

The group was joined up with producer Leon Sylvers III in 1979, signed with Griffey's SOLAR Records and scored a U.S. million seller with "The Second Time Around" (#1 U.S. R&B, #8 U.S. Pop).

In the UK the group had a string of hits with songs such as "Take That To The Bank" (1978), "I Owe You One" (1980) and 1982's "I Can Make You Feel Good", "A Night to Remember", "There It Is" and "Friends". The album of the same title Friends was also a big seller in the UK in 1982 crossing the genres of pop, disco and soul. The band's record sales in the UK increased dramatically when Daniels demonstrated his body-popping dancing skills on BBC Television's music programme, Top of the Pops, premiering the Moonwalk on television for the first time. Michael Jackson was an ardent fan of the group, in particular, Jeffrey and his dance moves, after watching him for years on the show, Soul Train. Jackson and Daniels met after, Jackson took his then 12 year old sister Janet to see Shalamar perform at Disneyland. Jeffrey Daniel went on to teach Jackson the Moonwalk and choreographed Jackson's 'Bad' and 'Smooth Criminal' videos.

The group took a knock when both Watley and Daniels left the band over artistic arguments with the SOLAR record label, shortly after the release of their next album The Look in the spring of 1983. Nonetheless, the album yielded a number of UK hit singles including "Disappearing Act", Dead Giveaway (also a #22 U.S. Pop hit), and "Over And Over". The album itself moved Shalamar into a more new wave/Synthpop direction, with rock guitars to the fore. But The Look generally was not the success that Friends had been the previous year.

With a mid 1980s line-up change with Delisa Davis and Micki Free, Shalamar returned to the U.S. Top 20 in 1984 with "Dancing In The Sheets" from the Footloose soundtrack, peaking at #17, and they won a Grammy for "Don't Get Stopped in Beverly Hills" from Beverly Hills Cop in 1986.

But when Hewett left for a solo career in 1986, and was replaced by Sydney Justin, the band faded into temporary obscurity.[1][2] The group recorded 1987's Circumstantial Evidence, which was a commercial disappointment, and faded away soon after the release of 1990's Wake Up.

Watley, who, with former Prince sidekick André Cymone, made solo albums and found success with her own singles, which included 1987's "Looking For A New Love", 1989's "Friends", and 1994's "When a Man Loves a Woman". She rejoined with Hewett and Daniels, plus LL Cool J, on Babyface's 1996 million-selling single "This Is for the Lover in You"; a cover of a hit single from Shalamar's 1980 album Three For Love. Watley was also one of the few American singers to perform on the original Band Aid record recorded by mostly British singers in November 1984. Free was mentioned on Chappelle's Show, under Charlie Murphy's 'True Hollywood Stories' when playing basketball with Prince.

Shalamar reformed in 2005, for the UK television series, Hit Me, Baby, One More Time, with original members Jeffrey Daniels, Howard Hewett, and with new singer Carolyn Griffey (long time friend and fan of the original band, and daughter of Shalamar founder Dick Griffey). They reached the grand final on 22 May 2005, ultimately losing out to Shakin' Stevens.

Shalamar has scored a total of three gold albums in the U.S.; with Big Fun, Three for Love (which eventually went platinum) and Friends.

Also in 1980, the band made a promotion of "The Second Time Around" for the radio station KJR in Seattle, called "The Sonics Came To Play"; dedicated to the Seattle SuperSonics who had won the NBA Championship, the previous year.