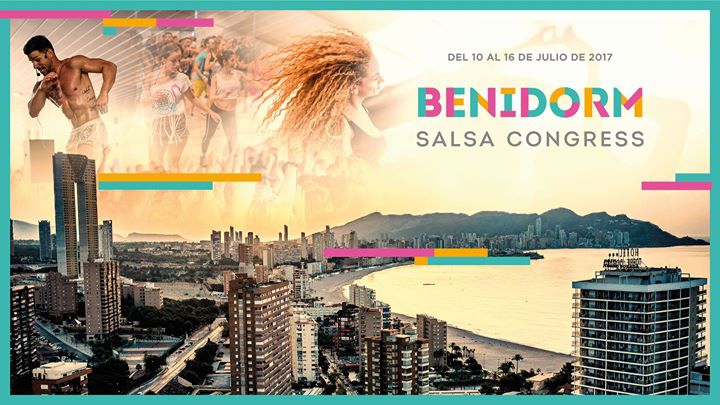 Benidorm Salsa Congress 2019
Benidorm Salsa Congress
Mon Jul 8th 2019 to Sun Jul 14th 2019 at 10:00 until 07:00
---
Alicante
,

Luis Prendes 4

,

Benidorm

Alicante
https://www.myguidealicante.com/events/benidorm-salsa-congress-2017
BOOK NOW
Event Details
Benidorm becomes the European capital of salsa, for all lovers of good music and dancing together we enjoy an unforgettable experience in a unique setting, CITY OF BENIDORM.

Benidorm Salsa Congress is making people enjoying dance from 7 years until now. He does it with affinity and passion, proposing original and innovative ideas that value the social and human component, meeting the desires of the dancers. All this in a summer setting where the sun, the sea and the heat transport our imagination to the tropical places where these rhythms and dances were born.
http://bit.ly/welcome_bsc
The learning and development of dance is implemented in regular classes and 5 Master classes of 4 hours, with international references, which take place throughout the week. Their pedagogical programs are carefully elaborated so that the assistant can enjoy the various components of the event not being excessively absorbed in this aspect. There is time and comfort to enjoy entertainment and leisure activities. In this area, but in a more artistic area, choreographic Bootcamps also appear, which allow you to experience the sensations of preparing and presenting a show.
http://bit.ly/Master-Class-BSC-en
The School Salsa Stars, the only global contest of amateur dances for schools, constitutes a strong bet in the stimulation of the artistic development of Salsa dancing, helping to form future stars, to support the schools (a fundamental pillar in this dynamic) and to cement the global passion for this art.
http://bit.ly/School-Salsa-Stars-en
The line up of artists snatches our emotions with the presence of several world-class consecrated artists, in different styles and formations, and also with new and vibrant international promises that break with the established and propose new paths for the future.
http://bit.ly/schedule_bsc
http://bit.ly/Artists-and-Instructors-BSC-en
Attention to detail, irreverence and originality have for maximum exponent the special production that takes place annually every Sunday. A different show, enriched and loaded with symbolism that comes from salsa ... to celebrate salsa.
This common denominator that unites us all, this music, this dance, is continually celebrated in 7 days of social dance, with several dance floors running at the same time, exploring a wide range of styles, cared by the professionalism of a broad and experienced team of DJs whose work only ends with the first rays of sun after the conclusion of the vibrant after hours.
It is during all these days and nights, all these moments of sharing, of coexistence and leisure that we feel the passionate personality and the human character of the Benidorm Salsa Congress. We work to allow the learning of the dances, the socialization of the people and the fun of this community, of these bonds of friendship, of this family. We strive to transmit life and happiness! We want to fill your heart with rhythm ... and make you smile.
Enjoy the summer by dancing!
Benidorm calls you!