Event Details
TORREVIEJA CARNAVAL - BIG PARADE 2020

SUNDAY 16th FEBRUARY AT 5:30 pm

February is Carnaval month and the Torrevieja carnaval is not to be missed, you are in for a real treat if you watch the Big Parade which is the most important Carnaval event of them all.
The parade will tour the streets of Torrevieja with all the dancers, performers & queens hoping to take the prize for best costume of the year.
As with any spanish parade, there will be loud & lively music, bright and playful oufits and the most amazing party atmosphere imaginable.
Torrevieja will celebrate their Grand Carnaval Parade on Sunday16th February.
The parade will start from María Asunción Square, crossing Ramón Gallud Street up to Clemente Gosálvez Street.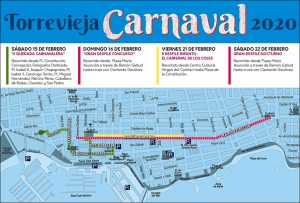 There will be another Carnaval parade on Sat 22nd February - this one is the night parade and starts at 8pm following the same route as above.
Enjoy