Truly Spanish Alicante
Tour Operators & Specialist Holidays Indoor Activities Language Schools
Learn Spanish the fun way with Truly Spanish Alicante
Learn Spanish in Alicante

The Spanish language is beautiful and loud and fast......Have you noticed how quickly Spanish people talk? Would you love to be able to learn the language? hold a real conversation.....in Spanish? and make new friends?

If you are thinking YES I'd love to but I'm not good at learning new languages. I'll never learn to speak Spanish fluently or it will take to long to learn then keep reading.

We have a secret.....

Do you want to know the best way to learn Spanish?

With the AMAZING Truly Spanish immersion holidays, based here in Alicante province.

You'll leave your native language on the doorstep and learn to speak Spanish quickly with their immersion programme in a wonderful inland town near Alicante airport (the mountain views are fabulous).

Founder Carlos Molina is a passionate teacher with one ambition:
To find fun ways to show you how to learn Spanish fast and Spanish culture, which is the key to understand our people and language better as well.
You'll also:
Go to places off the beaten track that you wouldn't normally see
Meet native Spanish people (including Carlos's family)
Get under the skin of Spain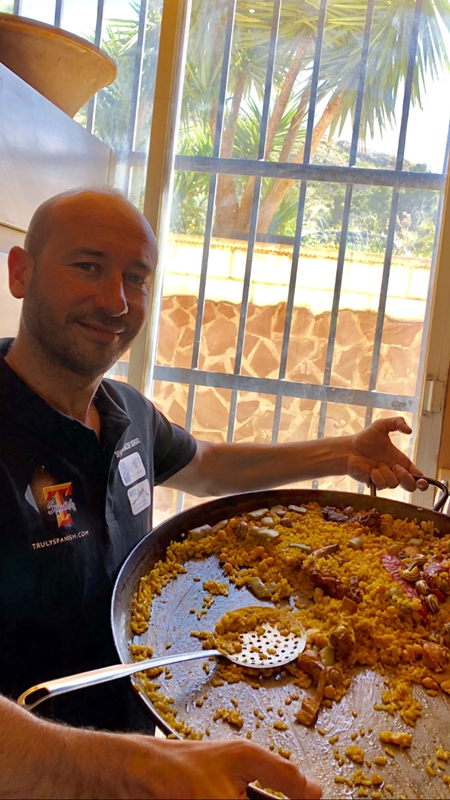 You will live, breathe and love Spanish for as long as your course lasts.

Don't worry, you won't be stuck in a classroom for hours on end.

You'll learn to speak Spanish like a native and get to know the way the language is used in real-life situations.

That's right, you can cook a paella, go shopping, go horse-riding, gliding, hiking or anything you wish – in Spain and using your new Spanish words.

You'll have so much fun during your Truly Spanish Alicante immersion holiday, that you won't even realise you're learning and speaking Spanish like a local.

You'll also get to know more about Spanish culture and why they do what they do (like, why are Spanish people so loud!).

It's a made-to-measure course especially for you.




You'll have your classes and then decide where you want to go and what you want to do. It's your Spanish course, so you get to do it your way.
"We guarantee progress because we will support you and help you to practise Spanish at all times, you will forget about your own language whilst you are here, immersed in Spanish language and culture," said Carlos.

Because you will be surrounded by and speaking Spanish for the duration of your Truly Spanish holiday, you will learn to speak Spanish much quicker than any other way.

In fact, you'll learn as much Spanish during Truly Spanish weekend break as you would probably learn by going to Spanish classes twice a week for four months, plus you get to experience the real spain, enjoy learning new things and enjoy the sunshine.

Book your intensive Spanish courses with Truly Spanish in Alicante today.