Alcoy
Alcoy is famous for putting on the best Moors and Christians fiesta in Spain. It's a fantastic spectacle with gunpowder, smoke and intricate costumes.
Alcoy is an old town, 65 kilometres inland from Alicante. It's architecture is an interesting blend of old and new.  Rivers run around the outskirts of the old town with some fine old bridges taking visitors into the historic centre. In fact, Alcoy is known as the city of bridges, which is due to its unusual landscape with many cliffs and sheer drops.

This is hidden Spain at its finest. It is a traditional mountain town and its past plays an important part in Alcoy today, particularly in its fiestas.
The restaurants are proud to serve local cuisine such as sausages, stews, meat pastries and sugared almonds. There are a couple of good three and four-star hotels in the old town centre, including one in a restored warehouse to add a sense of history to your stay.

Alcoy is surrounded by natural parks and mountains, which has made it an ideal stopover for cyclists, climbers and nature lovers who are keen to explore the surrounding sierras. In the Font Roja nature reserve, you may be lucky enough to spot eagles and vultures. In this area there is also the Cava Coloma snow store where the ice trade was established.
Local Tips
It's definitely worth visiting during the Moors and Christians fiesta, although the city will be very crowded.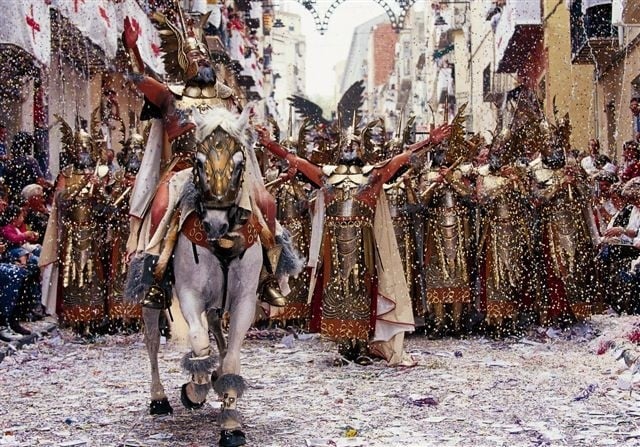 Christmas is another great time to visit with the giant king taking centre stage in the Plaza de Espana, along with a beautiful crib. On January 5, the Three Kings arrive riding camels.
Try the regional cuisine, which is different to that served on the coast. Expect meatier and more earthy dishes such as stuffed peppers (bajoques farcides), a fish and vegetable stew (borreta), bean and meat stew (olleta alcoyana) and sweet almonds (peladillas). You can also try the fiery hierbas liqueur after your meal.
Alcoy is the home town of the Serpis olives, which is one of the most famous tapas in the world. Delicious! You can visit the Serpis museum to find out more.
FIESTAS
 Moors and Christians
This exciting and noisy spectacle takes place from April 22 to 24 each year. Thousands of people dress up in lavish costumes to re-enact the battles between the Moors and Christians.  Smoke fills the streets as the two groups fight it out with muskets accompanied by the sound of kettle drums and trumpets. As well as being the best Moors and Christians fiesta in Spain,  it is also said  to be one of the best spectacles in the world – no mean feat indeed.
Pilgrimage to St Anthony
Hundreds of pilgrims head for Alcoy on the third Sunday in January in honour of St Antoni Abad or St Anthony the Great.
MUSEUMS AND MONUMENTS
Alcoy Bridge
This impressive structure was designed by Spanish award-winning architect Santiago Calatrava to connect the homes in the north of the city with the viaduct area.  It is 383 metres long with a span of 280 metres.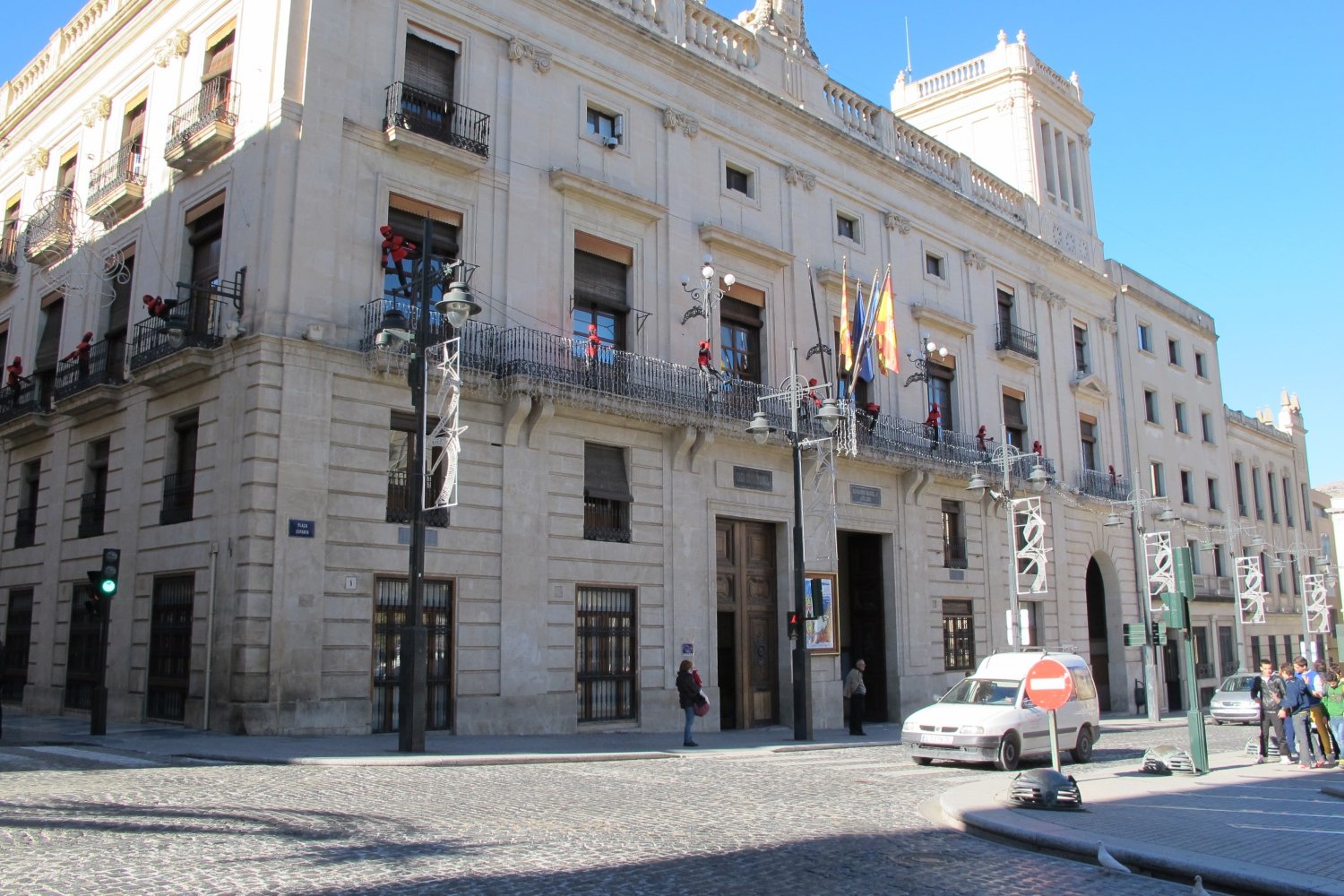 Alcoy Town Hall
Found in the charming Plaza d'Espanya, the 19th century town hall occupies the plot of a former convent. It is home to many paintings and sculptures by local artists as well as contemporary Spanish artists such as  Miro and Emilio Sala.
Casa Bolla
This 18th century building is the head office of Alcoy's textile association. The name bolla comes from the tag or label which the Royal Cloth Factory awarded to textiles of a certain quality.

Cave Paintings
About 10 kilometres from Alcoy are cave paintings which are believed to be about 7,000 years old and show a hunting scene.
St Jordi Marketplace
This was also designed by the Spanish architect Santiago Calatrava and can be found in the Plaza d'Espanya. It is a beautiful piece of modern architecture and resembles the skeleton of a a marine mammal.
El Pavo House
This is one of Alcoy's best-known buildings and sums up the town's economic growth at the turn of the 20th century, when it was built. It is built in a modernist style with intricate wrought-iron work and mosaics. It is called el pavo (or turkey) because there is an image of a turkey on the door lintels.
CLICK HERE TO BOOK HOTELS IN ALCOY