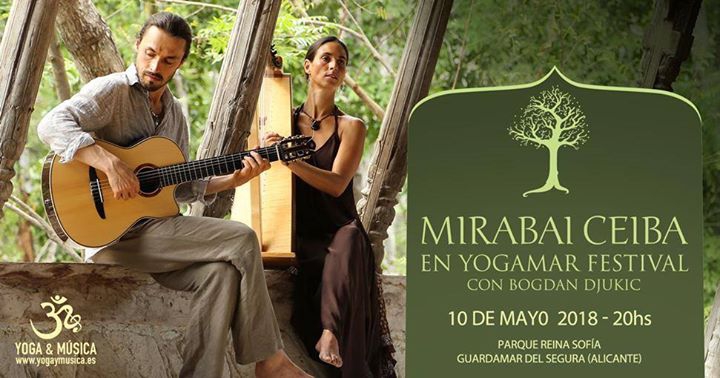 YogaMar Festival 2018
Guardamar del Segura, Spain
Thu May 10th 2018 to Sun May 13th 2018 at 17:00 until 15:00
---
Alicante
,

Guardamar del Segura

Alicante
https://www.myguidealicante.com/events/yogamar-festival-2018
BOOK NOW
Event Details
After the success of the first Yoga Festival in Guardamar, visitors can enjoy the 2nd YOGAMAR FESTIVAL from 10 to 13 May 2018 in Guardamar del Segura. (Alicante)

This year MIRABAI CEIBA will open the Festival with a concert; and SHAKTI DANCE with SARA AVTAR,

There will also be music with KAMARI & MANVIR, Kundalini Yoga with Siri Sundri Kaur, Jagjeet Prem Singh, meditating singing mantras with AGOCHAR & SHABAD, SIMRAN, gong baths, sadhanas at sunrise on the beach and much more to meditate in a wonderful environment in peace and tranquility at the Yogamar Festival in Guardamar.

ENJOY A 3 X 2 PROMOTION LAUNCH UNTIL 15TH JANUARY! Offer valid until January 15 or until sold out tickets are sold.

GIVE A YOGA FESTIVAL, GIVE AN UNFORGETTABLE EXPERIENCE: A very special event with sun, sea and yoga.

BUY YOUR TICKETS at www.yogaymusica.es

PROGRAMME

Place: Queen Sofia Park. Guardamar del Segura (Alicante)

Thursday, May 10.

5 pm OPENING OF THE FESTIVAL. Words of the Councilor.
5:30 p.m. SHAKTI DANCE with SARA AVTAR.
20 hours MIRABAI CEIBA IN CONCERT

Friday, May 11

10 hs Hatha Yoga with Laura Baccaro.
12 hs Tour through the dunes of Guardamar.
13:00 Pranayamas session.
4:00 pm Gong bath with José Teja.
17 hs Yoga Dance with Yunia Espinosa / Sat Nam Rasayan
7:30 pm Group meditation with mantras in movements and human mandalas.
8:30 p.m. Kamari & Manvir in concert. Electronic Mantras

Saturday, May 12

6:30 am Morning Sadhana on the beach with Harkamal Kaur. Mantras of the Age of Aquarius with Siri Bea.
9 hs Breakfast.
10 hours Group meditation with mantra.
10:30 am Workshop for Women: 'The Cycle of the Goddess that you are,' with Siri Sundri Kaur.
10:30 am Kundalini Yoga for Men with Harchand Singh.
2:00 pm Food.
3:30 p.m. Gong bath.
5pm Workshop of Shakti Dance with Sara Avtar.
8:30 p.m. Agochar & Shabad Simran Singh in concert. Music for the soul.

Sunday, May 13

6:30 am Morning Sadhana on the beach. Mantras of the Age of Aquarius with Jagjeet Prem.
9 hs Breakfast.
10 am Group meditation for the elevation of human consciousness and mantras in movements (celestial communications)
10:30 a.m. Workshop on Navel Point, with Jagjeet Prem Singh.
14 hs End of Party with Dances and Dances.

Aimed at lovers and practitioners of yoga and meditation of all levels and traditions; Residents and tourists who want master classes in yoga, meditation and live music.