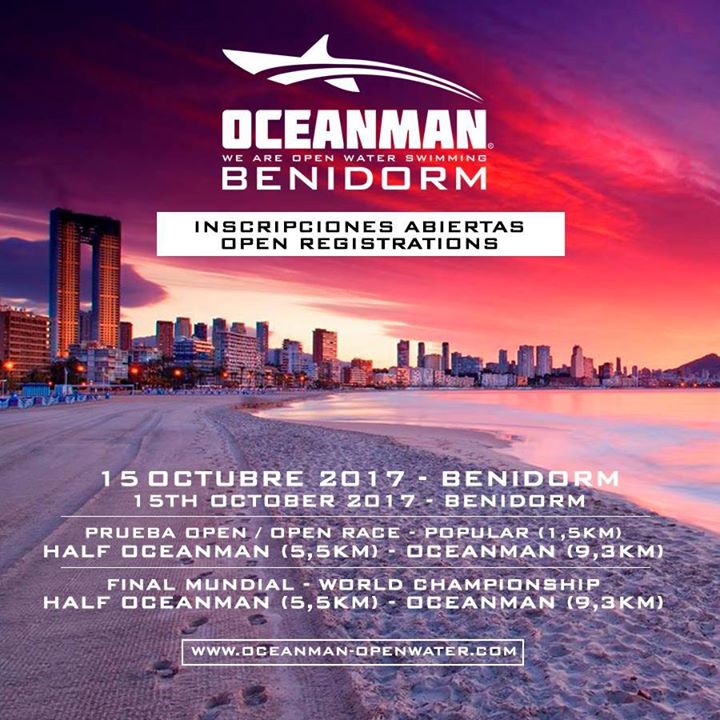 Event Details
The end of the world circuit Oceanman, an international open water swimming event, will gather 1,500 swimmers in Benidorm on October 15, according to Efe sources from the organization of the event.

Benidorm will host for the third time the finals of a circuit that has six venues in six countries (Spain, Malaysia, Russia, Greece, Italy and Mexico) and three continents (Asia, Europe and America).

Ferním Egido, director of the competition, said that there are already 25 countries represented among the participants, most notably the presence of 333 Russian swimmers, 132 Ukrainians, 32 Mexicans, 40 Italians and 20 Greeks.

'The Spaniards are only 23% of the participants,' said Egido, who highlighted the great impact that the test has over the economy of the area to remember that will cause about 3,000 overnight stays between swimmers and family.

'It will be the most important and international test of all that has been held in open water in Spain,' said the director of the competition.

Oceanman Benidorm swimmers will be competing in the Oceanman (10 kilometres) and Half Oceanman (5 kilometres) starting from Mal Pas beach and heading to Benidorm island and back.

In the middle distance test, swimmers will take leave from the island to the beach. Also included is a popular non-competitive 1.5km test, ideal for beginners on open water cruises.

Last year, the Hungarian Olympic swimmer Daniel Szekelyi and the Spanish Rebeca Santos were the winners of the World Circuit.