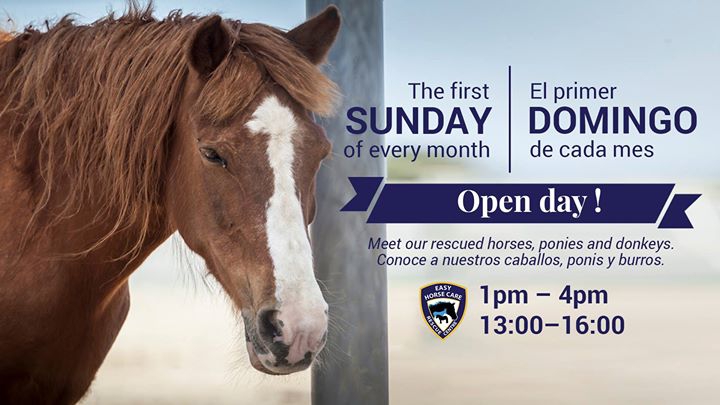 Event Details
You're invited to come and meet our rescued horses, ponies and donkeys during our open day, held on the first Sunday of each month. Entry is free and children are welcome.

On the day, we offer a free guided tour of our stables and fields – Spanish tours start at 1pm and English tours start at 2pm.

Join the tour to hear the incredible survival stories of some of our most famous horses – including beautiful Bronson, who survived being beaten with a hammer; Captain and Hope, whose terrible starvation case helped change the face of animal welfare in Spain; and Luceiro, who lost an eye but remains one of our most majestic and spirited horses.

You'll also get to meet us, Sue and Rod Weeding, a British couple who founded the Easy Horse Care Rescue Centre back in 2008.

Afterwards, you might like to stop for a cool drink, cake or savoury vegetarian snack in our little cafe, named Charity's Tearoom after one of our very special donkeys.

While you're there, you can also purchase t-shirts, keyrings, books and more. Proceeds from these sales help feed our equines and allow us to continue our work to improve animal welfare across Spain.

We are located in the Alicante region of southeastern Spain, just outside of the township of Rojales at Partido Lo Garriga, 59. Full directions at: http://www.easyhorsecare.net/visit.

We hope to see you here!

///

Te invitamos a conocer a nuestros caballos, ponis y burros rescatados durante las jornadas de puertas abiertas que se celebran el primer domingo de cada mes. La entrada es gratuita y pueden venir tanto niños como adultos.

En esas jornadas ofrecemos una visita guiada a las instalaciones del refugio (en castellano a las 13.00 y en inglés a las 14.00).

Apúntate a la visita para escuchar las increíbles historias de superación de algunos de nuestros caballos más famosos, como Bronson, que sobrevivió tras ser golpeado con un martillo; Captain y Hope, cuya historia de inanición ayudó a cambiar la forma de afrontar el bienestar animal en España; y Luceiro, que aunque perdió un ojo, sigue siendo uno de los caballos más majestuosos y vivaces.

También podrás conocernos a nosotros, Sue y Rod Weeding, pareja de británicos fundadores del refugio Easy Horse Care Rescue Centre en 2008.

Al acabar, puede que te apetezca quedarte a tomar un refresco, un trozo de tarta o picar algo vegetariano en nuestra pequeña cafetería Charity's Tearoom, llamada así en honor a uno de nuestros especiales burros.

También puedes aprovechar para hacerte con una de nuestras camisetas, llaveros, libros,... Los beneficios de esas ventas van dirigidos a costear la alimentación de nuestros equinos y nos permite continuar nuestro trabajo para mejorar el bienestar de los animales en España.

Nos encontramos en la provincia de Alicante, en el sur de España, en las afueras de la localidad de Rojales, en Partido Lo Garriga, 59. Más información y direcciones: http://www.easyhorsecare.net/es/visitanos.

¡Esperamos veros aquí!