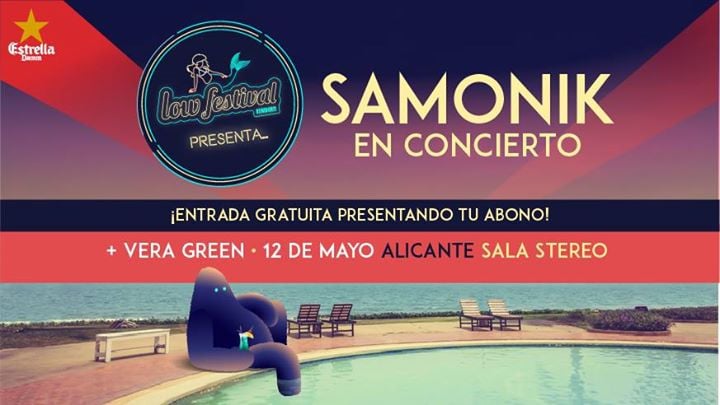 Event Details
Low Festival presents Samonik in Stereo Alicante on Friday May 12th with Vera Green. Free entrance only presenting your subscription of # Low2017.

Samonik, the DJ's electronic rock band and producer Jason Samonik visits Spain to present his new EP. Four concerts in Madrid, Benidorm, Alicante (with Vera Green) and Toledo to whichpeople who have tickets for Low Festival 2017 can enter for free.

Jason Samonik, whohas worked with names like Hot Chip, Atari Teenage Riots and Solange, will launch his first EP in May. From it we have already been able to know the single 'Strangest Part', a subject that brings him closer to some of his more organic influences, such as Iggy Pop or Depeche Mode, and is about to release his second single, 'She's Alone.'

Holders of a subscription # Low2017 will have FREE access just by submitting your subscription. The rest of the audience will be able to buy their tickets at the box office for only € 6.


Low Festival presenta a samonik en CONCIERTO en Stereo Alicante el viernes 12 de mayo con Vera Green. Entrada gratuita solo presentando tu abono del #Low2017.

samonik, la banda de rock electrónico del DJ y productor Jason Samonik visita España para presentar los temas de su inminente primer EP. Cuatro citas en Madrid, Benidorm, Alicante (con Vera Green que estuvieron en la pasada edición) y Toledo a las que podrán entrar gratuitamente los poseedores de abono Low Festival 2017.

El proyecto del norteamericano Jason Samonik, que ha trabajado con nombres como Hot Chip, Atari Teenage Riots o Solange, lanzará su primer EP precisamente en mayo. De él ya hemos podido conocer el single "Strangest Part", un tema que le acerca a algunas de sus influencias más orgánicas, como Iggy Pop o Depeche Mode, y está a punto de estrenar su segundo adelanto, "She's Alone".

Los poseedores de un abono #Low2017 contarán con acceso GRATUITO tan solo presentando su abono. El resto de público podrá comprar su entrada en taquilla por tan solo 6€.