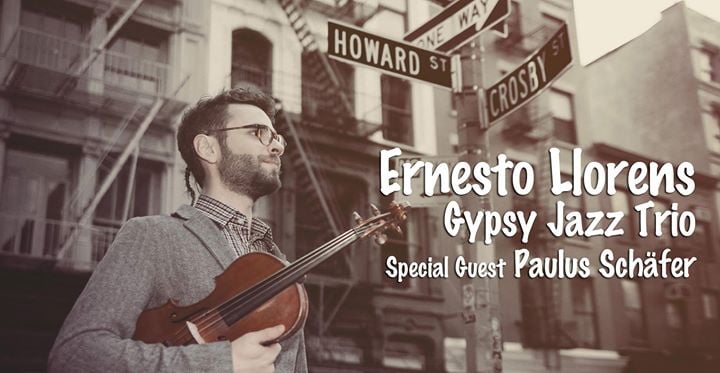 Event Details
Tickets preorder
Concert € 20,- (at venue € 25,-)
Concert + CD € 30,- (at venue CD 13,-)
limited tickets available!
reserve at: schootsgroup@mac.com or
tel. 628 550 071 (Marco) 608 573 822 (Natalia)

Ernesto Llorens Gypsy Jazz Trio
Special Guest Paulus Schäfer

With a refined technique, unique improvisation, and a challenging and personal musical approach, Ernesto Llorens has earned a reputation as currently one of the most influential violin performers of Gypsy Jazz.
A jazz violinist and Spanish composer who lives in New York, Ernesto presents his new project Gypsy Jazz Trio, with the internationally renowned guitarist, Paulus Schäfer.
Using Gypsy Jazz as his inspiration, Ernesto will perform his original compositions and works of the masters Django Reinhardt and Stéphane Grappelli, all accompanied by a solid rhythm section with Jorge Guzmán on the guitar and René Dossin on Double Bass.

BIO Ernesto Llorens
New York-based jazz violinist and composer, Ernesto Llorens is one of the most exciting violinists of his generation. He developed a passion for Jazz and other genres while being trained as a musician in Spain, the United States and several other countries. These diverse influences allow him to create a unique voice on the violin.

An energetic and effervescent performer, he commands the fascinating world of improvisation with ease, ingenuity and polished skills. Ernesto writes his own music, which reflect an amalgamation of his Mediterranean background, classical jazz training, and influences from contemporary music. Following his significant entrance into musical composition for cinemas in Los Angeles and documentaries for The New York Times, Ernesto just finished on the composition and recording of his new album "On My Gypsy Way" with the renowned guitarists Biréli Lagrène, Stochelo Rosenberg, Adrien Moignard, Mozes Rosenberg and Paulus Schäfer.
Ernesto is a graduate in Jazz Violin Performance/Composition from The New School for Jazz and Contemporary Music (New York) and Berklee College of Music (Boston), and in Classical Violin from the Conservatori del Liceu (Barcelona).

In the United States, he has the privilege of studying and working with many celebrated musicians, including Ron Carter, Dave Liebman, Reggie Workman, Jimmy Owens, Cameron Brown, Chris Cheek, Barry Harris, Jane Ira Bloom, Andrew Cyrille, Miguel Zenón, Julian Lage, Rob Thomas, Mat Maneri, Aaron Parks, Christian Howes, Matt Glaser, Darol Anger, Zach Brock, Alain Mallet, Ed Tomassi, Armen Donelian, Andy Milne, Daniel Binelli, Eugene Friesen and Rachel Z.
During his time in Barcelona, Ernesto studied with internationally recognized violinists such as Evelio Tieles, Eric Crambes, Gonçal Comellas, Jozef Toporcer, Mark Gothoni and Kai Gleusteen, as well as prestigious composers Benet Casablancas, Willem Dragstra and José Nieto.

Born in Alcoi (Alicante) Spain, in 1986, Ernesto began studying violin at age six in the Joan Cantó Conservatory of Alcoi, under the tutelage of Professor Taré Darias. Throughout his violin study, Ernesto has been the recipient of multiple regional and international awards as recognition of his musical and academic achievements, including the Antonio Pérez Verdú Musical Studies Award, three consecutive years of scholarships from the Valencian Institute of Music, and the International Scholarships awarded by the Berklee College of Music and New School for Jazz and Contemporary Music.

Ernesto, the violin and Jazz…a dream, a calling.

Bio Paulus Schäfer

Paulus Schäfer (born 1978) is today one of the most talented Gypsy Jazz guitarists from The Netherlands. Born into a Dutch Sinti (Gypsy) community he learned to play the guitar at a very early age. Besides listening to fellow Sinti and records of his idol Django Reinhardt, it was Wasso Grünholz – a legend within the Sinti community – from whom he learned the most. After a short period of time, in which Paulus briefly took over the lead guitar of Jimmy Rosenberg in the Gipsy Kids, he formed the Paulus Schäfer Trio. Paulus has a particular sound, easy recognized, and although all Paulus' albums are true to a distinctive Gipsy Swing Jazz sound; He is always looking for a new modern sound. Not only to broaden his own horizons, but also for a more representative Gipsy Jazz sound for the 21st century.

Some highlights in the series of concerts of Paulus Schäfer: Sziget Festival Budapest (H), Khamoro Prague (CZ), IGGF Gossington (UK), Django Reinhardt Festival Samois-sur-Seine (FR), Gipsy Festival Anger (FR), International Gipsyfestival (NL), Kaluga Festival (RU), Djangofollies (BE), Djangoliberchies (BE), Djangofest (USA), Tampere Guitar Festival (FIN), Transform – Trondheim (NO), Amersfoort Jazz (NL), Haarlem Jazz (NL), Breda Jazz (NL) Jazz in Duketown (NL) to name a few.

Being a musician on high demand, Paulus is often to be found on stage with other musicians like The Rosenberg Trio, Biréli Lagrène, Stochelo Rosenberg, Fapy Lafertin, Jimmy Rosenberg, Tim Kliphuis, Feigeli Prisor, Andreas Öberg, Olli Soikkeli, Gonzalo Bergara, Jan Kuiper etc. and can be found on many albums. He also recorded three albums with his own trio, his debut album Into the Light in 2002, in 2006 Desert Fire and Live at the NWE Vorst with the The Tilburg Big Band. In March 2012 he released Twelfth Year, in which he guaranteed the assistance of Tim Kliphuis, Nous'che and Stochelo Rosenberg. A few month later Rock Django with the violin player Tim Kliphuis. The album Kouvola Junction has been published in Finland in the same year. The start of a successful partnership with Olli Soikkeli and Arnoud van den Berg in the band Hot Club d'Europe. And in November 2014 the release of CD album Rocky with the accordionist Dominique Paats. Two new CDs are planned! Paulus also participates in projects as Five Great Guitars and Manouche Nouveau.

Website Link Ernesto:
www.ernestollorens.com
Facebook Link Ernesto:
https://www.facebook.com/ernestollorensviolinist/?fref=ts
Website Link Paulus:
www.paulusschafer.com

___________________________________________________________________
Ernesto Llorens Gypsy Jazz Trio
Invitado Especial Paulus Schäfer

Con una depurada técnica e improvisación singular, además de un enfoque musical desafiante y personal, Ernesto Llorens se ha ganado una reputación como uno de los intérpretes de violín más influyentes del Gypsy Jazz actual.
El violinista de jazz y compositor español que reside en Nueva York, Ernesto Llorens, nos presenta su nuevo proyecto Gypsy Jazz Trio, junto al guitarrista internacionalmente reconocido Paulus Schäfer.
Teniendo como influencia el Gypsy Jazz, interpretarán sus composiciones originales y obras de lo maestros Django Reinhardt y Stéphane Grappelli, todo ello acompañado por una sólida base rítmica de la guitarra de Jorge Guzmán y del contrabajo de René Dossin.